Launch of 2018 Christmas hamper appeal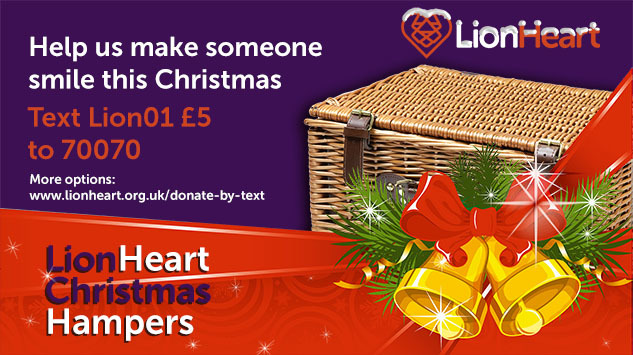 22-11-2018
Could you help us put a smile on someone's face this Christmas?
LionHeart has launched its annual Christmas hamper campaign - and we're asking our supporters to help.
Every year we send around 100 hampers filled with festive treats to some of the people we're supporting. The recipients are usually people who are facing really difficult times, perhaps due to serious illness, financial hardship or family bereavement.
Bena Kansara, LionHeart's support services manager, said: "About this time of year, many of us start looking forward to the festive season, Christmas shopping and making plans with friends and family.
"But it's important to remember that, for all sorts of reasons, Christmas can be a time that some people absolutely dread: they might be people who are seriously ill, unable to work, people who simply don't know how they will afford Christmas this year, and people who will be missing a loved one, perhaps for the first time.
"That's why we're asking our generous supporters to think about backing our hamper appeal: for the price of a coffee and a cake, you could help us make someone smile this year despite the difficulties they might be facing.
"It's a small gesture but one which we know people really appreciate."
How to donate
The quickest and easiest way to donate is by text: simply text LION01 to 70070 followed by the amount you'd like to donate (eg LION01 £5)
You can also choose to donate £1, £2, £3, £4 or £10. All money pledged goes directly to LionHeart, although you may be charged for your text.
You can also donate online.
What our hamper recipients said….
These are just some of the heartfelt messages received by the team last Christmas.

Thankyou again for the help and support during such a traumatic period, for which we will always be grateful. The Christmas hamper was very unexpected and much appreciated."

I have never experienced such kind and thoughtful generosity, which arrived on a day I was in great pain."

Can't thank you enough for your kindness and understanding of the exceptional circumstances we've found ourselves in over the last two months. The hamper was an absolute life saver."

I was completely overwhelmed to receive it I cannot tell you. I had a lump in my throat."
Thanks for your support!