9 simple ways to cut stress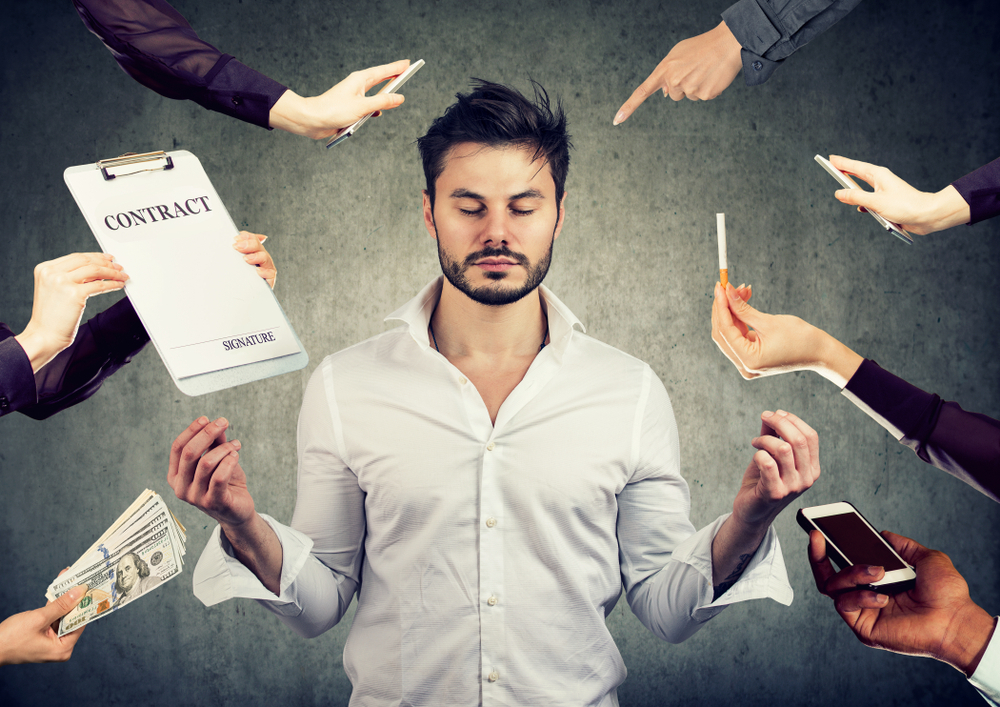 07-04-2022
A little bit of stress is actually quite a healthy thing, as odd as it may sound.
The right amounts of acute but short-lived stress, according to academic researchers, can actually prime your brain for improved performance, cognitive function and optimal alertness.
How many of us have pulled an all-nighter as a student or produced a great piece of work close to a deadline, for example? That's because a bit of an adrenaline rush can sharpen your focus and attention.
Where stress becomes the 'baddy' in life is when there's too much of it, for prolonged periods of time. Unlike your short sharp bursts of stress, chronically elevated stress levels have the opposite effect on mind and body, with proven links to impaired memory, depression, and other mental health problems, as well as a propensity to develop heart disease and high blood pressure.
Every year, the LionHeart support team and counsellors work with people for whom stress has become a big problem for their mental and physical health. Many of them don't even realise they're stressed until they're really quite ill.
But there are lots of ways you can address stress, once you know what you're looking for.
This Stress Awareness Month here are 9 simple tips on how to cope better with the stresses and strains of busy modern life: some of them are really small and simple adjustments to your daily routine, yet they can pack a big punch when it comes to improved mental health...
1. Move!
Take a walk, or do some stretches. Exercise helps the body deal with stress and gives your body and mind a break from work; even a 15-minute walk at lunchtime can release some feel-good endorphins and help you be more productive during the afternoon.

2. Prioritise & plan
Plan your day effectively. What needs to be done most urgently? What can be fit into shorter windows of time? Planning your time well will help you waste less precious time and help you feel less stressed throughout the working day or week.
3. Make time for yourself
It's easy to fall into the trap of thinking you've got so much to do, that you can't take breaks or enjoy your leisure time. But it's essential to make time for family, friends and hobbies: switching off mentally for a time can make you more productive.

4. Mindfulness and positivity
One of the techniques the LionHeart counsellors often use with clients is to try and reframe how we might see things. Instead of moaning about the rain, notice how pretty the drops are on the leaves. Instead of inhaling your sandwich while you work, take a moment to really concentrate on the taste and smell of what you're eating. It's a very effective way of teaching yourself to approach things differently.
5. Breathe...
Yes, we don't mean the breathing that you do without thinking! Focus on taking some deep, controlled breaths. It's amazing how much it can help - like a mini meditation wherever you happen to be.

6. Make time to have a laugh
Even if you don't feel like it to start with: taking a few minutes to laugh or joke with a friend or colleague can give your mood and day a lift. Human connection is good for us.
7. Take breaks
Whether you're working at home or in the office, take regular breaks to move around, make a drink, stretch your neck and shoulders. Don't be tempted to work through lunch or stare at your screen for hours on end.

8. Share
Sometimes the oldest sayings have the most truth and a trouble shared will often lessen your burden. Talking to a trusted friend or colleague may help you see things from a different, less stressed-out perspective.
9. Learn
The more you know about stress and different ways to handle it, the more likely you are to find coping strategies that work for you. Why not check out our range of free webinars, including a whole programme throughout April for Stress Awareness Month? We run webinars on time management, mindfulness, general wellbeing and yoga-based stress management. You can find details here.

If you're feeling constantly worried and stressed, it might be time to seek professional help from our counselling team or consider one-to-one coaching. LionHeart can help RICS professionals at any stage of their careers, as well as their partners, and our support officers can help work out how best we can do that.
And, if you're in the UK, we also offer professional youth counselling through our partners for children and young people over the age of 12.
Whatever is worrying you, there are ways we can help. Give us a call and find out how.
Find out more: