Stressed out?
Managing Stress and Building Resilience

Stress is not always a bad thing, it's only when you experience too much of it and for longer periods that it can start to have a negative impact on your life.

Here at LionHeart, we understand that there are many factors which can contribute to an increase in your stress levels and the potential for this to lead to further serious mental and physical health problems.

If your stress levels are starting to affect your life in a negative way, please give us a call.

Support is tailored for each person, and can include any of the following:

Someone to talk to regularly and confidentially

Advice and resources to help on a variety of issues relating to stress

Counselling from one of our qualified counsellors


Additional help, such as referrals to one of our partners, or financial support, depending on the source of the stress
We offer a range of workshops and webinars designed to support your mental wellbeing. These include half-day Improve Your Work Life Balance workshops and hour-long sessions such as Supercharge Your Wellbeing and Boosting Your Resilience, as well as our short webinars.
All have been designed specifically for chartered surveyors and are delivered by experienced trainers.
Take time to breathe

Signs that you are stressed
Modern life can be tough. The pressures that life brings, like financial problems, health and wellbeing, or work-related issues, can all lead to feelings of stress.

Feeling that you cannot cope can contribute to physical problems like insomnia, lack of appetite, anxiety, headaches, or having low self esteem.

When you are under stress your body releases stress hormones, often called the "fight or flight" response. If handled properly, once the pressure is over, your body often returns to normal, but being under constant pressure can lead to further health problems.
Spotting signs of stress early can help you nip the problem in the bud and work out ways to cope.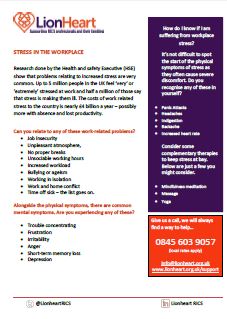 Stress in the workplace
A useful guide in helping you manage stress while at work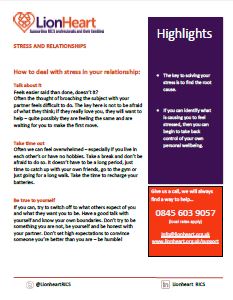 Stress and Relationships
Simple advice on taking the first steps to maintaining a healthy relationship with our partners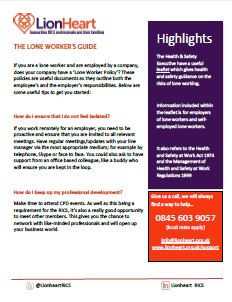 The Lone Worker's Guide
Working from home sounds like the ideal work life, but it comes with challenges that can cause you stress. This guide offers some tips on how to work stress free from home.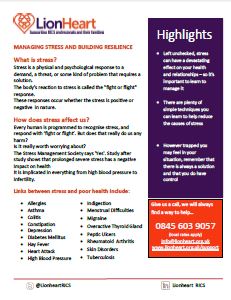 Managing stress and building resilience
Stress is a physical and psychological response to a demand, a threat, or some kind of problem that requires a solution. Here are 8 ways to relieve stress.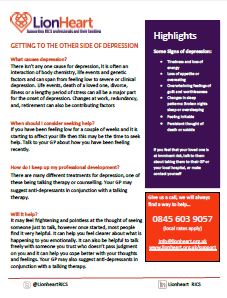 Getting to the other side of depression
What causes depression? When should I ask for help? This list of Q & As answers the questions you may have about combating depression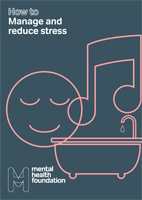 How to manage and reduce stress
Stress affects everyone in one way or another. This pocket guide talks about how stress impacts on your life, and how to deal with it, plus 101 of your own best practice tips on how to reduce stress. SOURCE: Mental Health Foundation

How to manage stress
This booklet is for anyone who wants to know how to deal with stress and how to learn to relax. It explains when and how stress can be bad for you, and provides helpful strategies for dealing with it and where to go for further help. SOURCE: Mind