Our Impact: making a difference
At LionHeart, we believe that no RICS professional should face a challenge alone and we pride ourselves on making a difference - even at the most difficult times in life.
Each year, our support team help people through problems big and small, in literally thousands of different ways - from confidential advice and emotional support, to financial grants, and legal or work-related help.
Our annual Impact Report is designed to give you a flavour of the work we do to help surveyors and their families all over the world - and how your donations help us to keep making a difference.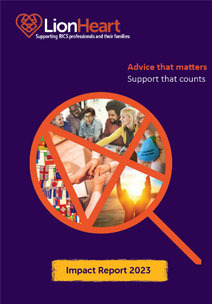 We are very proud to share with you our latest Impact Report, showing how LionHeart's work has been making a difference to the lives of surveyors and their families over the last year.
In 2022/23, the LionHeart team supported more people in more countries, with more individual 'acts of support', than ever before.
We're very proud to say we saw a 21% increase in the number of people and families we helped throughout the year - responding swiftly and with compassion to some of life's most difficult times.
None of this is possible without you. Thank you to everyone who has championed LionHeart, made donations or fundraised for us: y
our support helps us to keep helping people just like you, when they need it most.

Find out more about your charity: