Menopause in the workplace
Menopause in the workplace is an increasingly important issue as the make-up of the working population continues to change.
Women aged 50 to 64 are the fastest growing demographic in the UK workforce, and unlike in many previous generations, the majority of menopausal women are now in work.
The Faculty of Occupational Medicine says nearly eight in 10 menopausal women are in work and therefore may spend years of their working lives trying to cope with symptoms that can be debilitating physically and mentally.
The average age a woman goes through menopause is 51, although it can be later or even earlier, naturally or due to illness or surgery. Symptoms can start years before the menopause during what is known as the perimenopause.
Not all women will experience symptoms, but it's estimated that three-quarters do - and one in four will experience severe symptoms which can include hot flushes, night sweats, headaches or migraines, joint pain, palpitations and increased urinary infections as well as fatigue, anxiety, depression and poor concentration.
Trying to cope with symptoms while at work - particularly in a male-dominated environment - can be difficult especially as it sometimes feels like menopause is one of the "last taboos" of the workplace, following great strides made in acknowledging fairer treatment of workers with disabilities and mental health issues or pregnant women.
There have already been some successful employment tribunals brought against employers in relation to treatment of menopausal women. Some large firms are now implementing menopause policies to provide some direction and protection, and there have been calls for this to be brought in more widely as part of a commitment to diversity and inclusion.
FIND OUT MORE:
WEBINAR - TALKING MENOPAUSE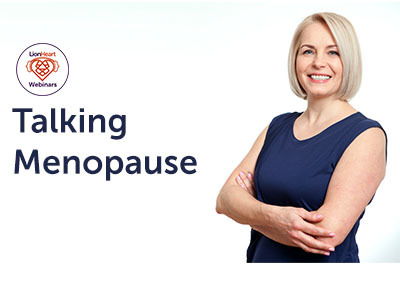 Download our pre-recorded webinar Talking Menopause, which talks about what menopause is, typical symptoms and choices for managing those symptoms, along with advice for supporting colleagues, best practice workplace solutions and reasonable adjustments that can be made.
MENOPAUSE AT WORK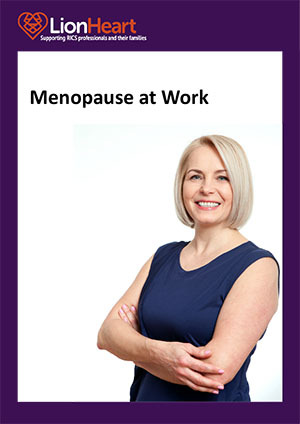 Download our Menopause at Work resource document ideal
for employers, line managers and individuals who want to understand more about the impact of menopause on women and how it may affect them at work.
It also provides policy documents for workplaces and line managers which may help them to make changes in the workplace and implement their own policies.

Mental Health and… Menopause

One of the most prevalent for me was that my anxiety levels were really raised and I suffered a huge loss of confidence. I was always questioning my ability, thinking that I should leave the profession because I'm simply not good enough anymore"
One of LionHeart's mental health ambassadors shares her experiences and describes how menopause symptoms affected her. Read more here
The Positives of Menopause

Menopause for many women feels like a dirty, scary word and not one often uttered by a man, especially in a work environment and certainly not in a positive way."

Read ambassador Marion Ellis FRICS sharing her own early menopause experience - and how it can be reframed into something positive...