Baby loss and depression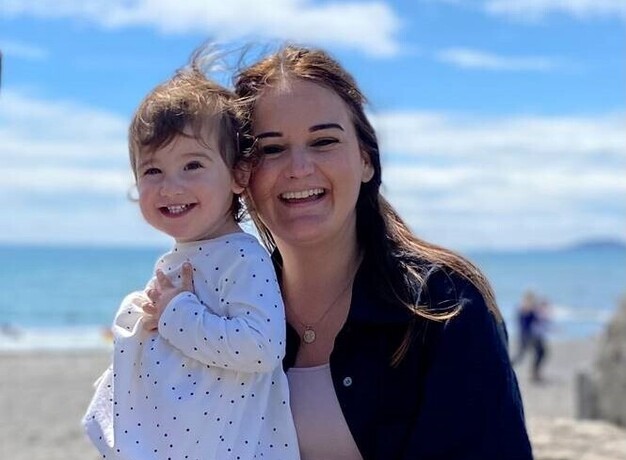 13-10-2021
If you'd have said to me at the beginning of the year that I'd be signed off work with depression and would be struggling to look after myself or my daughter, I'd have said, "Not a chance, not me." I considered myself strong, resilient, successful.
And yet one day in mid March, I woke up not wanting to be here. And I went to bed not wanting to be here.
I had felt that things weren't quite right, had felt it creep up on me, but continued to pretend I was ok and hoped it would go away.
I noticed I was becoming more sensitive to things that would usually not phase me. I found myself saying sorry a lot as well as doubting my abilities at work and at home being a mum - I think I was putting so much pressure on myself to be a good mum and a good worker, and not feeling like I was doing any of it right.
The negative thoughts were building up and beginning to be quite intrusive.
"The best option would be to not be here at all"
I eventually fell into a pit of despair. I genuinely felt that the best option would be to not be here at all.
One night I was putting my daughter to bed and I just needed to get out. I shouted to my partner to come to her bedroom and I just left. I walked for an hour, just walked round and round, and when I looked at my phone there were so many missed calls begging me to come home, so we could talk.
That's when I plucked up the courage to tell him how I had been feeling. He'd had no idea, that is how good an act I had been putting on to everyone. I told my family, my workplace and GP. I feel incredibly lucky that my employer acted immediately and supported me by giving me the time and space to work on getting better. I cannot thank them enough.
The guilt I felt when I was signed off work was immense, and the days I sat crying in front of my daughter? I don't have the words to describe the gut wrenching pain. How could I do this to her? She deserved a better mummy. Everyone deserved better. I wanted so desperately to leave and could see no other way out.
I started counselling with a CBT therapist and we started to work on reframing my negative thoughts. I joined a WhatsApp mental health support group for local mums.
About a month or so into my therapy, I found out I was pregnant. I remember telling my partner and there was a bit of me that was thinking, this should be a joyous moment, but I just felt numb to it all. I just felt nothing, for anything. It was the strangest feeling.
"I shed so many tears for our lost baby"
As the counselling continued, I started to feel a bit more normal. I noticed I was experiencing happy times with my daughter.
It kind of sank in that I was expecting baby number 2. I finally experienced all that joy that should have been there from the moment I found out - I was literally jumping round the house, I was suddenly so excited! I was starting to feel better.
Then I had some bleeding so we went for a first scan a little earlier than 12 weeks. They said they couldn't see what they were expecting to at that point, but said it could be because the dates were wrong. They couldn't detect a heartbeat. I was just all over the place - I was so desperate for it to be OK.
I was told to come back the following week, when they confirmed there was no heartbeat and told us our baby had passed away. I just sat and cried. I felt so much emotion for this little life.
We went home and waited for nature to take its course, but unfortunately I had complications and ended up having to be taken to hospital in an ambulance, where I had to have surgery. It was without doubt the worst week of my life and just kind of amplified the whole loss.
I started to reach out a bit more, opening up to family and friends, the local mums in my WhatsApp group. I was simply astounded how many people I knew had also suffered pregnancy loss, I had naively never realised it was quite so common. It really helped me to talk to people who had been through similar experiences.
I shed so many tears for our lost baby. But in allowing myself to cry it out slowly things got better. I will never forget, but overall I feel like I have accepted what happened.
I know I still have a way to go but I am in a much better place. I am absolutely unrecognisable from the person I was a few months ago - not just getting through each day but actually feeling glad to be alive and so, so grateful for my daughter.
"Other people's stories made me feel less alone"
I think what shocked me was how many women go through pregnancy loss and yet it's something we don't talk about very much at all. Others shared their stories with me which helped me to feel less alone, and I sincerely hope that by sharing my story it may also help someone.
I wish I had sought help much sooner, the signs were there but I ignored them. I realise now that it is not shameful to ask for help, not shameful to admit to having a mental health issue and not shameful to share the experience.
It's one of the reasons I have now become a mental health ambassador for LionHeart.
Please, if you are struggling, tell someone and ideally seek professional help. It's an illness that needs treating like any other. If your arm was broken, you wouldn't just hold it and hope it would get better…
Alison Westwood MRICS is one of the LionHeart mental health ambassadors. She shared her story for Baby Loss Awareness Week in the hope it would help others experiencing similar loss and mental health issues.
Read more: