How LionHeart helped us live life: Linda's story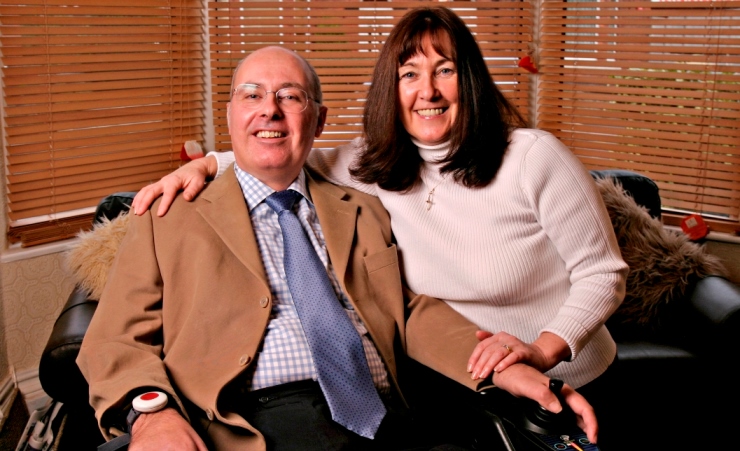 14-06-2017
I'll never forget the day that LionHeart support officer Clare visited us at our home, about a year and a half after my husband David was diagnosed with Motor Neurone Disease. By then he had lost the use of his right arm and his left arm was weakening.
This meant he could no longer do simple tasks like putting his contact lenses in, button up his shirt, get himself out of the bath, or eat with a knife and fork. He was getting progressively worse.
We had recently moved house, knowing that David would soon be in a wheelchair, and we chose the spacious house carefully to help his quality of life for his remaining years (how many we did not know).
However, we were worried about how we would manage financially as although my husband had worked as a surveyor for the local council, he had retired early on medical grounds. He was just 45.
It was through RICS that we got into contact with LionHeart, and Clare put us at ease as soon as she arrived. It's not easy asking for help when you have been independent and worked all your life.
We had always lived simply so therefore had no great expectations, but one of the biggest problems was coping with the care aspect of our rapidly changing routine. I was still working part-time, but was taking on more and more responsibility at home helping my husband with his day to day living.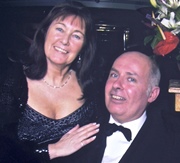 Clare had such empathy and seemed to grasp an understanding of our needs. She helped us fill in the forms and worked out how LionHeart could best help. It was a huge relief knowing that someone was on our side.
We were coping to a degree with the emotional upheaval, but the added worry of trying to make ends meet was putting extra pressure on an already stressful situation, despite David's remarkable cheerful outlook.
Over the remaining 18 months of David's life, LionHeart helped improve his quality of life by jointly funding a walk-in shower room, provided materials to improve our garden so he could enjoy some outdoor space in his wheelchair, contributed to the hire of a mobile hoist and money towards a holiday. They also awarded a small grant to help with day to day expenses.
But the most helpful from my point of view as a carer was helping me with a gym membership so I could enjoy some time out from what became a very heavy caring role.
There was also the opportunity for both of us to ring and talk to an understanding person at the other end of the line when the going got really tough. There were many times when despair kicked in as the disease took over our lives.
I accepted my husband was dying, but our aim was to be able to move towards that whilst retaining our dignity and our strong love for one another.
I think, despite the ups and downs, we did manage to achieve that, but it would have been a greater challenge if it was not for LionHeart's understanding, and holding our hand along the way.
Linda Conneely wrote this blog for LionHeart to mark Carers Week, and highlight the support we are able to offer carers.
Read more: Help for Carers