"I had no idea stress could cause a real physical pain"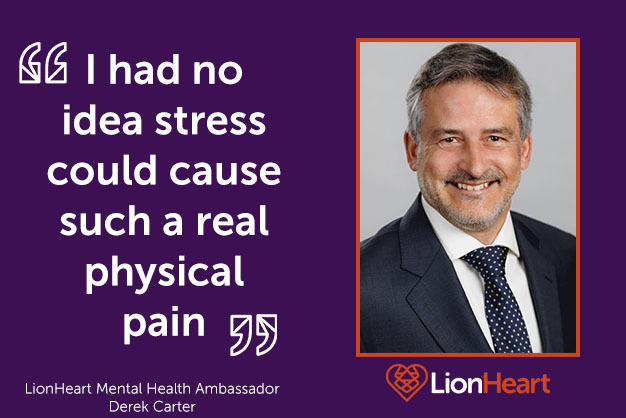 04-11-2021
Ironically, it was one Friday 13th that I ended up in hospital with a suspected heart attack after experiencing chest pains and pins and needles that had gradually got worse all day.
I'd never been the kind of man to visit the doctors really but they were symptoms I'd always associated with the heart so - most uncharacteristically - I turned up at the accident and emergency department at about 11pm.
Within minutes I had been whisked off for tests. I was kept in hospital overnight and told that, while it wasn't a heart attack, I did have high blood pressure and they needed to find out what was causing my symptoms.
Fast forward a few weeks and I had gone back to work although I still didn't feel quite right and got sent home again. More tests had followed and we were still no further forward.
Then my GP asked, do you think you're stressed?
It was like the dam bursting.
I mean, I knew I had a stressful job and so on, and I could see how feeling stressed could stop you from sleeping, or wake you up at night.
But I just couldn't put two and two together and see how stress could cause a very real physical pain.
"The stress had built up, like a drip drip drip effect you don't notice."
I was signed off work for a couple of weeks, but the stress didn't seem to stop. That was when I phoned LionHeart - I just couldn't think of who else to talk to.
Over the next weeks, I ended up parting ways with my employer. Eventually it would turn out to be the best thing for me - but it certainly didn't feel like that at the time. It put me into a financial hole and made me feel even more stressed about what the future would hold.
Again, LionHeart helped, and so in the space of a few weeks I used a number of the services - financial and legal support - practical help that did alleviate some of that immediate stress. It just helped me to have that clarity of where I stood and knowing I was supported.
Through LionHeart, I also started a course of counselling which would give me the techniques I needed to recognise my stress and how to manage it. I found, personally, talking therapy was a better way than medication to get me on the road to feeling more like myself again.
For me, work was the only trigger for my stress, otherwise I was quite a relaxed and positive person. But the stress had just built up over time, like a drip drip drip effect that you don't really notice. There would be the emails that got your heart racing or hands shaking, the sleepless nights where you would replay things that had happened, or lie awake imagining the worst case scenarios of everything. You never felt really rested.
At the time it did take me by surprise, but this was eight or nine years ago and there wasn't so much about mental health and stress around in the public eye. I was a man who didn't really go to the doctors let alone envisage having counselling and, to tell the truth, if it hadn't been for ending up in hospital I probably wouldn't have done anything at all! I would have just carried on, thinking I could bear it and that was just the way it was.
Counselling was the key to helping me to re-establish myself in my career and I am now in a much better position. That is not to say the problems have gone away - you don't cure stress, you learn to manage it and it does need continual management.
"You don't cure it; you learn to manage it."
I am always guilty of thinking about work too much and property is or can be a stressful environment to work in. But, these days, I have better ways of coping with it and better ways of relaxing.
Not only do I check in on myself more these days but I try to keep an eye on others. Sometimes it is easier to spot the signs of stress in other people than it is in yourself so I make sure it is something I talk about and am open about. It's one of the reasons I decided to become a mental health ambassador for LionHeart - knowing how difficult it can be to seek support, I just want to help make other people aware of how it can help.
Talking about what you're facing is the very first step.
Derek Carter MRICS has extensive UK, international and pan-European real estate experience working within property companies and private equity as well as banking. He is one of LionHeart's mental health ambassadors.
Find out more:
The earlier symptoms of stress are tackled, the better. There are many ways LionHeart can support this.
We also run a number of webinars that can help with stress management. Check out what's coming up here or see what else is available in our webinar library