Life with Parkinson's: Simon's Story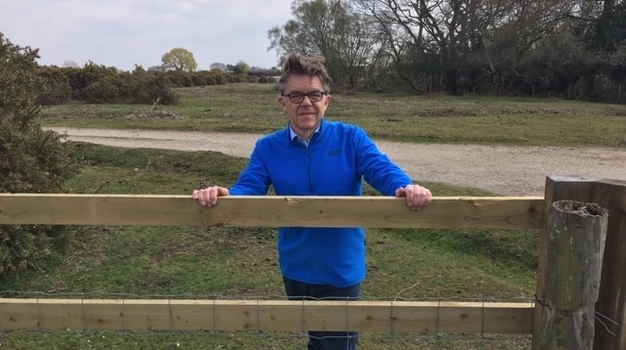 11-04-2019
Parkinson's is a serious and progressive neurological condition with more than 40 symptoms that affects people of all ages. Currently, there is no cure.
Every hour two people in the UK are told they have Parkinson's. It affects 145,000 people in the UK -around 1 in 350 of the adult population - and yet many people don't know much about it.
I'm Simon, a chartered surveyor from the south of England, and this is my story of living with Parkinson's so far.
I was diagnosed with Parkinson's disease in August 2015, at the age of 59, but there had been a loss of sense of smell which predated the diagnosis by some 10 to 12 years, as well as loss of facial expression and other symptoms of early onset Parkinson's. People commented that I did not smile as much - I'd lost confidence in myself, my movement and thinking had slowed and I was taking longer to do things.
I had some 35 years' experience of residential surveys and valuations behind me when diagnosed with Parkinson's. I was working remotely from home for a nationwide firm of Chartered Surveyors covering mainly South East London, and finding it difficult to keep up with the changes and increasing demands of the job.
My mother had Parkinson's along with her brother and surviving sister (three out of five siblings with the disease) and when I noticed a tremor in my left side and became aware that I was dragging my left leg whilst running I knew that it was Parkinson's. I remember becoming anxious on the way to the hospital appointment and my wife promising everything was going to be alright and telling me I wasn't "wasting the consultant's time"!
"Parkinson's changes everything: who you are and how you think"
Neither of us was fully prepared for the fact that Parkinson's changes everything. Parkinson's is not simply a movement disorder: it affects relationships and who you are and how you think. It is also difficult adjusting to the side-effects of the medication.
For me, not being able to function as before has been the most distressing thing.
We started to plan a move out of London to improve our quality of life, and this caused further anxiety and turmoil. I had a fall from a loft ladder whilst at work and my employers had to be informed of my condition. At the same time, a family member was going through major surgery and a close friend died after a short illness. My daughter was about to go to university and the house move became protracted, and we could not see the light at the end of the tunnel.
I was at a surveyors' conference and someone from LionHeart came to give a talk, and I realised I needed help. I really don't know where I would be without their help and tremendous support.
The counselling I received made such a difference to me. Just having someone to talk things through and listen helped me accept the changes and improved my thinking. LionHeart helped me cope and I will always be thankful that I made the call.
We've since moved to a small village where we have connections. I've stopped working and my life changed overnight - it is as though I jumped and the parachute opened as intended.
I've learnt a lot about myself and try hard to look for the positives of living with Parkinson's. I have a lot to be grateful for, not least the love and support of my wife, family and friends.
A positive side-effect of the medication is that I've been more creative and have new interests. I've become more engaged with the community and church. I'm learning to play the ukulele and have gone back to running; exercise seems to be the only way of pushing back the Parkinson's.
I try not to think too hard about the future and pray that a cure will be found someday soon.
Simon is a retired chartered surveyor living in the south of England. He shared his story to mark World Parkinson's Day, and to remind other RICS professionals living with long-term conditions that LionHeart is here to help.
Find out more:
LionHeart can support past or present RICS professionals living with Parkinson's or any long-term health condition. To find out how we can help call one of the support officers free on 0800 009 2960
The charity Parkinson's UK campaigns to find a cure and improve life for everyone affected by Parkinson's through cutting edge research, information and support. Visit their website to find out more.