Men's Health Week 2017: Is your waist hazardous?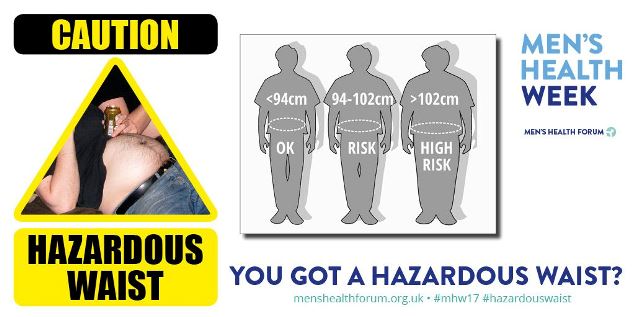 13-06-2017
Why is waist measurement important? Your waist measurement links to internal fat - that's the fat you can't see - that surrounds your organs and prevents them from functioning effectively.
Regardless of your overall weight, a large amount of belly fat increases your risk of:
Cardiovascular disease
High blood pressure
Insulin resistance and Type 2 diabetes
Colorectal cancer
Sleep apnoea
Premature death from any cause
So, this Men's Health Week, men of all ages are being asked to check if they've got a "hazardous" waistline, and take action to improve their physical and mental health.
What is a hazardous waist?
The measurement is not the same as your trouser size - you need to measure around your waist at belly button height.
Less than 94 cm = OK
94 cm - 102 cm = Risk
More than 102cm = High Risk
So, how do I reduce it?
It's not all about ab curls and sit ups!
You can't target it one specific area when it comes to weight loss but increasing the amount of physical activity you do will help.
Adults aged 16 to 64 should ideally aim to achieve 150 minutes of moderate intensity physical activity per week. Any block of activity over 10 minutes counts towards this total as long as it increases your breathing and heart rate and makes you feel slightly warmer.
Alternatively you could use a simple pedometer and aim for 10,000 steps a day, if you have a particularly sedentary lifestyle, as it encourages you to move more throughout the day. However it is still important to ensure 20 minutes of that activity is of a moderate intensity, as it's this activity that helps reduce your risk of developing the various health conditions listed above.
Walking is the best and easiest option for most people as it is free, requires no specialist equipment and can be done anywhere.
Why not try taking a 20 minute walk in your lunch break or getting off the bus or tube a stop earlier and walking the rest of the way?
Taking the stairs or the slightly longer route around the building can also help clock up those extra steps and reach that target.
Try new activities: sports and the gym aren't for everyone but finding something you enjoy will make you more likely to find time to participate.
Playing in the park with the kids or vigorously tidying up the garden at the weekend all helps to up your activity levels.
Adding some strength training is important too as it helps boost your metabolism, meaning you continue to burn more calories even after your session has finished. Many simple strength building exercises such as press ups, squats and stomach work can be done at home.
Whilst 150 minutes is seen as the target for a healthy lifestyle if you want to lose weight exercising more will help, along with maintaining a balanced diet.
Best of all, the benefits of fitting more activity into your life don't just help you physically: the feel-good factor is likely to improve your mental health as well.
Jo Grant is LionHeart's mental health project co-ordinator, and previously worked in sport and exercise development in the public sector.