My experiences of counselling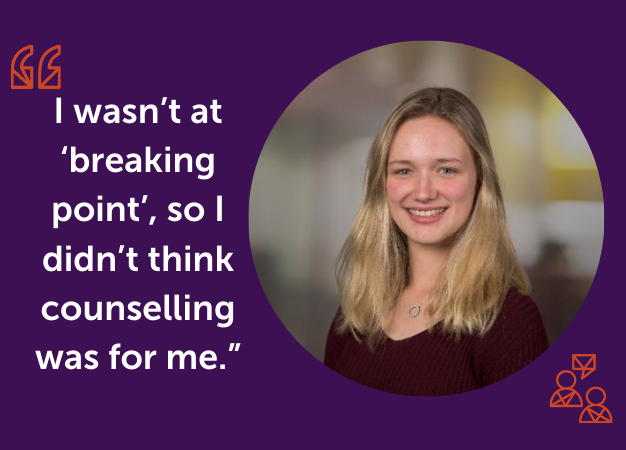 15-02-2021
When I was having counselling through LionHeart, never did I imagine that it would help so much - nor that further down the line I would go on to be an ambassador for the charity.
I'd first heard about LionHeart from a friend of mine who was a surveyor at another firm. I had opened up to her about some personal issues I'd been having and she asked me if I knew about LionHeart. She encouraged me to consider their counselling service because, while she was happy to support me, she thought I would benefit from the experience.
At the time, I had noticed my behaviour was becoming somewhat erratic. My ability to control my emotional responses to situations and remarks was becoming unpredictable, and often extremely negative and damaging - for no real reason I could detect. I felt overwhelmed by everything and my mental health was rapidly deteriorating, along with my already incredibly poor self-esteem.
It was all starting to affect not only my ability to focus at work but also my ability to have a healthy personal life.
Once I'd discovered LionHeart's counselling, I found I was able to confront the idea that my past experiences and childhood weren't as far behind me as I might have first thought. Although I thought I'd moved on from traumatic events and they no longer affected me, it obviously wasn't the case, and this was rapidly shaping the person I was becoming.
I was able to talk every week with a wonderful LionHeart counsellor who helped me identify these things in my past and form mantras and mechanisms to deal with them when they emerged in my current life. The counselling allowed me to really air and confront my experiences and helped me to form a generally more positive and forgiving perception of myself. In turn, it armed me with greater self-awareness and self-control so I could make better personal decisions, then start to form better goals and work more effectively towards achieving them.
Counselling isn't a magic wand and obviously this is all an ongoing process, but LionHeart equipped me to continue it independently - while also offering a consistent safety net should I ever need help again.
While I was having counselling I came into contact with so many wonderful people from LionHeart and one of them happened to mention their Ambassador Programme, which really interested me.
It felt like coming full circle in a way - I really wanted to help other people find LionHeart if they needed it, and to help spread awareness of the excellent work they do.
Many people - including me just a few years ago - kind of dismissed seeking help like theirs because, whilst I was deeply unhappy, I wasn't at my breaking point… yet.
I honestly felt like asking for help, counselling, whatever you might call it, was something you did when you were at rock bottom. I know now that that's the absolute worst case scenario - the earlier the better!
If by sharing my experiences I can help even a few people realise that it's ok to ask for support, and to do so as early as possible, it will be worthwhile.
Jordanne Dunn AssocRICS is a building surveyor for Savills in Birmingham. She now volunteers with LionHeart as a mental health ambassador.
Find out more