Reassessing how you drink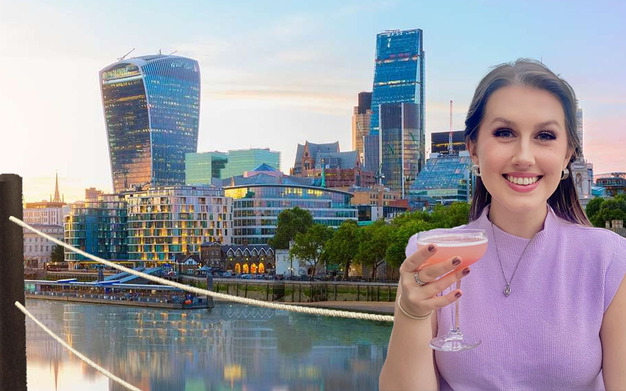 13-01-2022
Working in our field, it's not uncommon to hear about the deals done over a glass of wine at lunch, or the early finishes on a Friday to discuss the week over a few beers with colleagues. In larger offices, it's not unheard of to see a trolley of boozy delights being carted up and down the aisles.
Short of permanently wearing a bag on your head, it is impossible to avoid coming into contact with some sort of alcohol-fuelled workplace activity. This is all good and fun, but for many who find themselves drifting into alcohol-dependence, not only is their relationship with drinking tainted by their approaches to stress or social anxiousness, but it's also an inescapable part of workplace culture which can cause regular temptation.
How do we avoid something that could be damaging our health, when it's such an ingrained part of professional life?
Let me describe the moment I put my foot down on caving to the pressure of boozy lunches. I call it my 'pinot-epiphany'.
I used to use alcohol as a means of calming down my anxious brain. At one point I logged just 4 days in the month that I didn't have at least one boozy beverage. A couple of glasses of wine at lunch would turn off the buzzing internal narrative in my head. A whiskey on ice at the end of a hard day would finally be the thing that got me off my emails. A late-afternoon beer dulled the toll of notifications pinging in my homeworking office. These were all activities that I regularly saw others doing and were firmly in the societally-approved category of 'no big deal'… right?
However, it was only when a close friend pointed out that this 'coping mechanism' was actually a diversion tactic for my own self-confidence and anxiousness that I started to mull over my relationship with drinking. I'm ashamed to say that up until it was pointed out to me, I hadn't considered the connection between my mood and the regular consumption of alcohol. And I consider myself a relatively clued-up person!
You learn it's 'a depressant' in GCSE science but given that it's associated with so many good things in workplace culture, I never thought to put 2 and 2 together. I decided that my relationship with alcohol had become far too casual and it was time I started to monitor my habits.
I no longer consider having a soft drink on a work lunch to be 'fun-sponge behaviour'. I am content and confident in my ability to engage in conversations without a glass of wine. I've discovered techniques to calm down my anxious habits that are altogether more accessible, cheaper and healthier than alcohol.
Alcohol has no longer become the event for me. It is now an optional element of my social interactions, my business lunches, and my unwinding routine.
Reassessing my relationship with booze has given me a new-found confidence and has made me infinitely more productive. Plus, it means when I do have a drink, it is in a controlled manner and for occasions that are legitimately worth celebrating!
Things like Dry January might feel a bit like jumping on a bandwagon. Some people who struggle with alcohol might feel quite low if they don't make it through the month - or just make up for lost time when February 1st rolls around. But they can be useful in helping to give you a nudge to break or reset a habit for a few weeks, or simply give an opportunity to take a step back and give it some thought.
Most importantly, it provides an opportunity to understand how capable you are without the need for that shot of extra confidence you're used to relying on (excuse the pun…)!
My advice to anyone who might have concerns about the numbers of 'drinking days' they have in their week is:
Find a soft drink that you love, not just one that you tolerate! I buy Pimento spiced ginger beer to have at home, but pubs often have some interesting flavours of tonic water or juices if you fancy something more exciting than lemonade or soda water. Mocktails may just be expensive fruit juice, but if you find one you love, chances are you can buy the ingredients individually at most bars too.

Consider whether zero-alcohol booze is a winner, or a warning. I personally love some brands of alcohol-free lager because it tastes like beer, looks like beer, COSTS like beer, but I know it won't make me tipsy. I can slip undetected in social situations this way. However, I know others struggling with addiction that need to steer clear of 'fake booze', cold-turkey style.

Go alcohol-free for a month. I don't necessarily mean Stoptober or Dry January. I mean a random 30 days that you don't need to declare anything to anyone, to use as a personal challenge to yourself. When you realise that people aren't phased by you ordering a soft drink, it starts to become something you can implement on a more regular basis.

In relation to point 3, if you have those who do apply the pressure for you to have an alcoholic drink, consider whether those relationships are ones you want to expose yourself to on your 30-day break. Sometimes we don't have a choice in these things, and for those moments, I recommend finding someone who can hold you accountable to your booze-free month. This can be a friend who regularly texts you, a family member, or even a counsellor or support officer at LionHeart. If you really can't think of anyone, consider keeping a diary.
Find solidarity in literature, podcasts and vlogs. A lot has been written about the topic of alcohol in British culture, so you don't need to look far for inspiration. A book I found incredibly powerful was The Unexpected Joy of Being Sober by Catherine Gray.

Don't let the driving force behind your cutting down be guilt. Guilt is never a welcome feeling and it certainly isn't a comforting one. It is a useful sign that something is not right but let your guiding emotion be hope, instead.
The bottom line is this: alcohol can be great fun when used responsibly. There is a reason it has been so engrained in professional life for decades - it relaxes people, takes their guards down, and sometimes allows new relationships to form.
However, it shouldn't ever be the only thing that does those things for you. Take back your authority and learn to love yourself first. Your anxiousness or emotional responses to situations are in themselves useful signposts to areas to work on in your life; numbing those feelings with booze simply delays the issue for tomorrow, when you could be realising your wonderfulness today.
Elise Thompson is a chartered commercial property surveyor, and won Young Surveyor of the Year 2021 in the Commercial Property category. As a LionHeart ambassador, she has a heart for helping APC candidates achieve their letters as well as starting conversations about mental health and wellbeing in the workplace.
Need support?
Contact the LionHeart team on 0800 009 2960 (+44 121 289 3300 from outside the UK) or email info@lionheart.org.uk

How alcohol almost cost me everything