Social Anxiety & how we can help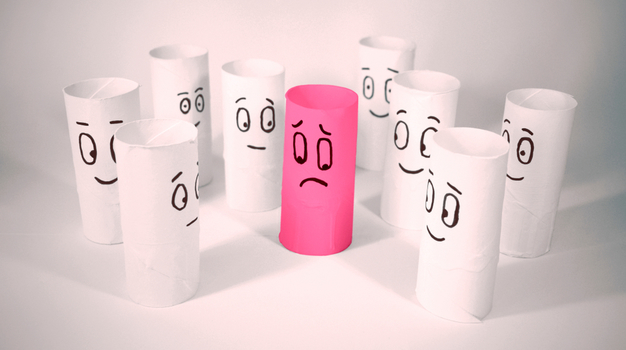 14-05-2019
Imagine the thought of everyday social situations leaving you so paralysed with fear you go out of your way to avoid them.
Social anxiety is a fear of being judged negatively, and feelings of extreme anxiety in social situations.
There are many situations where many people may feel naturally anxious - giving a presentation, for example, when you might worry about making a mistake or what your audience might think of you.
But for someone with social anxiety, that may be just one of a whole range of situations they seek to avoid - even simple things like going out for coffee or to a restaurant that most of us don't give a second thought to - because the fear of being humiliated, embarrassed and judged negatively can be so debilitating.
The "fight or flight" response is our human reaction to fear or the perception of danger or a threat. Physical sensations can kick in, like a racing heart or shortness of breath, sweating, tension in your muscles, shaking.
That's how someone with social anxiety would feel faced with many everyday situations - often made worse by negative thoughts ('everyone's looking at me', 'they think I look stupid/weird').
They might use what we call safety behaviours - avoiding eye contact, pretending to be on their phone, holding something like a glass or a bottle or a cigarette so they have something to do with their hands, or turn down invitations.
These behaviours might help them manage short-term, but long-term the person isn't giving themselves chance to prove to themselves that they can cope, they can have a nice time, people aren't looking at them, and they have something to add to the social situation.
Using CBT to help
Cognitive Behavioural Therapy (CBT) can help a person to understand what may have triggered their problem, and how our thoughts, emotions, physical sensations and behaviours all feed into each other which maintain the problems we are experiencing.
Working with a trained CBT therapist can slowly help you to learn how to break the negative cycles by working in the here and now. It's important to recognise and acknowledge past experiences and how they have impacted on our present lives - but that we can't change what has already happened.
We can then start to challenge these negative beliefs we hold about ourselves, others and the world. Setting goals, monitoring and evaluating progress, learning practical tools and techniques and applying these in between sessions are all part of CBT.
Some examples of the treatment we would follow for social anxiety might include:
Relaxation/ mindfulness techniques to manage anxiety
Compiling a list of feared situations from easiest to hardest and gradually exposing oneself to these situations till they eventually start to feel more at ease
Cognitive restructuring - recording thoughts in certain situations and learning to challenge them by looking at any evidence
Behaviour experiments - gradually dropping safety behaviours to learn that they can cope without them
How we helped Sam
Sam was struggling at work and in her personal life. At work she had intense fears of having to speak in meetings and feared making phone calls to clients in the office. Outside work, she'd avoid social gatherings if there were many people she didn't know, and avoided eating out because she had a fear of eating in front of others.
Any of these situations would result in intense anxiety, but the more she isolated herself the lower her mood also became.
We started to work together to understand what may have contributed to Sam's social anxiety, and importantly what she was doing that was maintaining it. An exciting moment for her was the realisation that this was in her control to gradually change things.
We began introducing mindfulness techniques to help control her thoughts and reduce anxiety. Sam kept a daily 'thought record' in between sessions and we compiled a hierarchy ladder of feared situations from easiest to hardest, rating them from 0-100% fear.
We then planned an experiment she felt was challenging but achievable: going out to dinner, which she'd rated as a 50% fear. We talked about what those fears were: making a mistake with the order, the waiter thinking she was "weird" or laughing at her, and I also asked Sam to rate her anxiety before, during and after the experiment.
Sam bravely went out to dinner - which many of us take for granted as an easy pleasant experience. She realised that her predictions were not as she thought, the waiter made eye contact, smiled and was really pleasant, which helped her feel more confident and comfortable. Reviewing her hierarchy ladder, her fear had gone down to 20% so we worked on gradually repeating the experiment until she felt really comfortable, and then tackled other fears in a similar way.
Over time, Sam was starting to enjoy life again for the first time in many years. Her overall mood had increased, she was happier at work and her social life had rocketed.
Bernadette Antoniou is one of the LionHeart counsellors. She is an accredited member of the British Association for Behavioural and Cognitive Psychotherapies and the British Association for Counselling and Psychotherapy.
Find out more about LionHeart counselling here