The one about the Bipolar surveyor...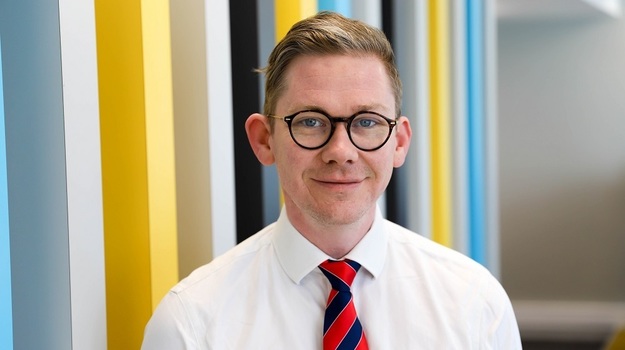 29-03-2019
Did you hear the joke about the Bipolar Surveyor….?
My name's Owen Gower and I have Bipolar Disorder. I'm also a surveyor working in the Facilities Management industry.
Of the two things, which would YOU admit to more comfortably? Or, perhaps, bring up on a first date?
I'm not saying we should be ashamed of being surveyors, but let's face it, we're about one step away on the coolness charts from the accountants.
But it's still an easier sell, at the end of the day, than saying, "Hey guess what, I have a mental illness that needs constant management and I'll probably be on medication and an NHS watch list for the rest of my life!... How's your steak?"
Which would you say first, do you think, at an interview? (Although presumably by interview stage they know you're a surveyor. Or you're definitely in the wrong room)
Can you, in fact, be successful in life and forge a great career - as a surveyor or anything else - and have a mental health condition like Bipolar?
Well, the odds aren't stellar…
Only 21% of people with a long-term mental health condition actually manage to stay in employment. If that doesn't shock you, it should, with 1 in 4 people set to experience mental health problems at some point in their lives. Which is probably a significant underestimation, by the way, and estimation is something we cover on the first day at surveyor school!
I'm one of the lucky ones, I suppose, but it's still a balancing act.
I faced that first question - what do you admit to and when - two years ago, and I'd just come out of hospital after my diagnosis. And I wrote this blog on LinkedIn, announcing it to my professional contacts, friends, people I've worked with and people I'll never meet. I disclosed something very personal and difficult to come to terms with in a very public way.
The main reason I did that was because I had dropped off the map for almost 4 months, speaking to no one, and didn't want to start every subsequent conversation with: "Well, actually I found out I'm Bipolar and was in hospital."
So, I decided to get it all out - a line in the sand declaring to the world: "This is me now, let's move on…"
And I did move on.
In a way I didn't want to hide it, because it had been hidden, possibly badly, for some time. It's not uncommon for Bipolar to be diagnosed as an adult; many people with the condition (around 3% of the population) can't put all of the symptoms together to support a diagnosis until after a number of "episodes", which viewed holistically all point to Bipolar.
I was 32 when a psychiatrist sat me down, spent 3 hours questioning me and confirmed a previous supposition that that's exactly what I had.
It came at a particularly difficult time for me; lead sales Commercial Manager for a large FM organisation, 2 children under 5, travelling nationally, and following a couple of major depressive and manic episodes (and the resulting mess).
I had to step away from work, literally ending my role as a provider for my family. I was forced to stop driving and had to start taking pills which, at the beginning, made me look more like an extra from the Walking Dead than a surveyor (inherent similarities aside).
After 4 months off and with the new-found burden of my diagnosis I started work at a new organisation. During the interview process I stuck with my instinct to be open about Bipolar.
Risky, maybe - but I knew that if someone wouldn't hire me because I have a mental illness, I wouldn't want to work for them anyway. And they would be missing out. Because all the good bits of me are still there, just under better control.
Adjusting to function under that control was a steep learning curve, and there was no getting away from the fact my employer would have to deal with that too. I had to learn about myself on the new medication, the side effects and the huge, enforced lifestyle change (while trying to shake off the undead look).
Luckily, I joined a progressive, empathic and supportive employer. I've told my story at events both internally and externally and actually, the candid approach has been welcomed more than it's been heckled.
I've not been passed over for any promotions; I've not been treated like a second-class citizen, or as a ticking time bomb. I still get calls from recruiters and other organisations inviting me to speak at industry events.
Pretty much nothing has changed, apart from me. I'm more responsible, I'm more aware of my triggers and limitations, I'm more observant of the source of my actions and energy.
I'm certainly still drugged up, but in a helpful and manageable way. I can do my job and I can do it well.
I'm not free from danger though, and my condition certainly weighs on my shoulders: the fear of relapse; the ever-present worry; the constant double checking of the way I act and react to make sure I'm not letting things slip, because it's a steep and slippery slide.
There's the fear that, while my current employer is excellent about my condition, other employers or professional contacts may not be and my support system could be taken away from me. People may still take one look at me on paper and dismiss me and my capabilities because they don't understand that Bipolar can be a part of someone that's there, but not in the way.
To be fair, I didn't understand that either at the start - whether the surveyor and the Bipolar could rise beyond their incompatibilities and work together. And I'm still scared they'll go out sync now.
And there's the rub. If I'm still scared of these things, despite my two years of graft, how can I expect others to dismiss them without any prior experience or exposure to Bipolar?
The answer in my view is the need to keep exposing people to the facts and truth about Bipolar in particular - and mental health in general - reduce stigma, and create an environment where people can share their mental health concerns without fear of retribution or negative impacts.
It won't happen overnight, but each small effort is a pebble with which we can build a mountain.
World Bipolar Day is one such effort; a day to get together and share, read, educate, be educated and open our eyes. This blog is my own effort.
Owen Gower MRICS is Sector Commercial Manager for VINCI Facilities. He was the 2014 winner of the RICS Matrics Young Surveyor of the Year (FM category). He is one of LionHeart's mental health ambassadors.