Video: My transition to a new life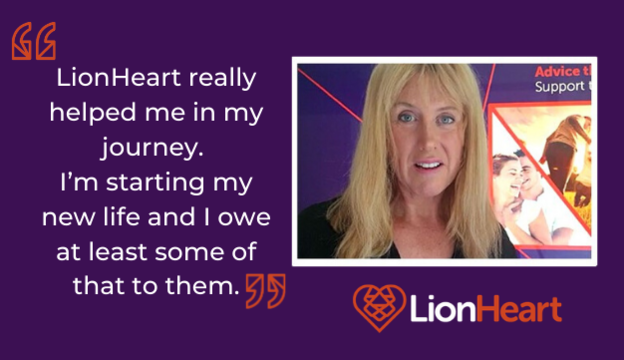 20-07-2020
My name is Samantha West and I'm the commercial director for Vinci Facilities.
I just want to tell you a little bit about my story because LionHeart really helped me during my journey.
I am transgendered, which means I transitioned from male to female, both socially, around my family and at work.
A few years ago, I made the announcement to over 400 of my colleagues at work that I was planning to live my life as a woman. I had moved out of the family home - my wife and I had had to tell our children, and I was preparing for the first of three lots of surgery.
It was a huge decision and not without its trauma.
I turned to LionHeart for counselling. For the first time in my life I was talking to someone who didn't have a vested interest in my life somehow - to be able to talk and just let myself go, the counsellor was just there for me to absolutely offload without worrying about what I was saying. It was such an amazing outlet for me, I actually get emotional just thinking about it.
Now, I feel very lucky. I have got through my transition and I'm very grateful for the support I had. My children are in my life, my family is accepting, myself and my wife are friends, work is great and I've had all my surgeries with the NHS.
I'm starting my new life and, with mental health being critical to that success, I owe at least some of that to LionHeart.
Samantha West MRICS is commercial director for Vinci Facilities. She also works to promote diversity and inclusion in industry and volunteers for an LGBT+ committee for the FM sector. She has also advised RICS on transgender policies.
Samantha and LionHeart CEO Davina Goodchild will speak at the online RICS Building Surveying Conference on 21 July 2020
LionHeart counselling is free for RICS professionals and their partners, no matter what issue they are facing. Find out more

here