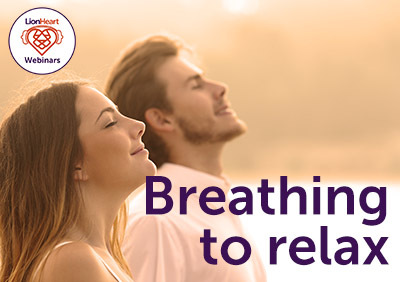 Webinar - Breathing to Relax
Learn to bring more relaxation and calm into your life with this 45 minute webinar to help you tackle the tension and stress that can build up over a period of time in your life.
This is ideal for anyone who wants to live more fully, with less stress, and be even more effective at work and at home.
You'll learn several quick and simple strategies to help you feel calmer, increase energy and enable you to think more clearly.
What's covered:
Recognising habits of tension that can impact your health, work and relationships and what you can change

Essentials skills to improve your breathing in every activity, for more energy and less tension

5 minutes to muscle relaxation

Calming 'busy brain', and turning off your inner critic, especially when dealing with challenges

Creating a wellness boost every day
Following this webinar, participants will also get a bonus download of online resources including breathing boost videos, relaxation exercises, and more.
Please note: This workshop is safe and suitable for people with chronic conditions such as anxiety, asthma, depression.
Our webinars are free but we are very grateful to those who pay a suggested donation of up to £10 to attend.