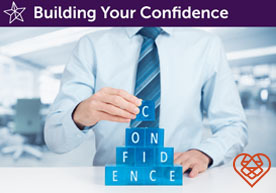 Building Your Confidence
Aim: To help you build your confidence so you can start approaching those important situations in your professional or personal life feeling self-assured and calm.
Who is it for?
Many of us could do with a confidence boost at some point in our lives. Whether you're working towards your APC, looking to make the next step up the career ladder, or possibly returning to work after some time out of the workplace, this new one-hour workshop is full of tricks and tips to help you build your confidence levels.
What's covered?
What is confidence?
What makes you feel less confident?
The Social Contract
Getting what you want
More dates to follow.
To be added to a mailing list about future CPD workshops and events, please email
events@lionheart.org.uk
.