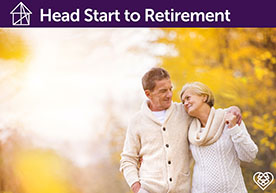 Head Start to Retirement
Aim:
To make sure RICS members and their partners have the best support possible when it comes to planning for their retirement.
LionHeart has teamed up with Laterlife, the UK's leading provider of retirement preparation courses, to offer these CPD-approved workshops.
What's covered?
An introduction to the financial implications of retirement, and putting a financial plan in place
Thinking about when to retire, and what retirement might mean for you
What are the relevant legal and professional issues surrounding retirement?
Lifestyle changes and what you need to think about before retiring
Thinking positively! How to embrace retirement as an exciting new chapter
There is no charge, but members are asked to make a voluntary donation per person to LionHeart to help us cover costs.

I thought the above event was excellent in every way. LionHeart is to be congratulated for organising the event which was extremely well presented by a very enthusiastic & knowledgeable trainer. The handout is extremely useful, & the event was actually enjoyable. I left enthused ! JU, Manchester
Book now:
More dates to follow!
If you'd like to be added to a mailing list about future CPD workshops and events, please email events@lionheart.org.uk.