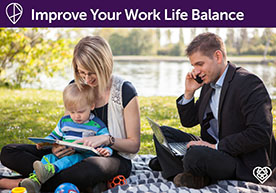 Improve Your Work Life Balance
Aim:
To help you find a healthy and sustainable balance between work and leisure. Explore tools and techniques to manage your work life balance, allowing you to be more effective, productive and engaged in all areas of your life.
Who is it for?
Anyone who feels their wellbeing would benefit from a better balance between work and home.
What's covered?
What does a good work life balance look like

Identify what is unbalanced for you and how you might fix this

Tools and techniques to have a good work life balance

Using time effectively for work and your personal life allowing you to be

effective, productive and engaged
This workshop was devised especially for LionHeart by Kate Taylor FRICS, an experienced APC trainer and assessor, and is delivered by trainers who have first-hand experience of the surveying industry.
- Read Kate's blog on work life balance
here
There are no charges for these workshops, but members are asked to make a voluntary £20 donation per person to LionHeart to help us cover costs.

Hopefully life-changing - excellent!
Excellent, thought-provoking and practical tips to take away
Nottingham
Date: 10th January 2018
Time: 9:30am - 12:30pm
Venue: Nottingham Conferences, Frank Barnes Room, Derby Hall, University Park, Beeston Lane, Nottingham
Book your space here
Manchester
Date: 6th February 2018
Time: 1:00pm - 4:00pm
Venue: Arora Hotel, 18-24 Princess Street, Manchester M1 4LJ
Book your space here
Bristol
Date: 28th March 2018
Time: 1:00pm - 4:00pm
Venue: JLL, 31 Great George Street, Bristol BS1 5QD
Book your space here
To be added to a mailing list about future CPD workshops and events, please email
events@lionheart.org.uk
.