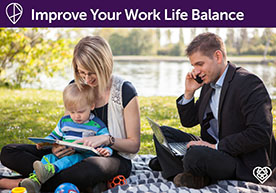 Improve Your Work Life Balance
Aim:
To help you find a healthy and sustainable balance between work and leisure. Explore tools and techniques to manage your work life balance, allowing you to be more effective, productive and engaged in all areas of your life.
Who is it for?
Anyone who feels their wellbeing would benefit from a better balance between work and home.
What's covered?
What does a good work life balance look like

Identify what is unbalanced for you and how you might fix this

Tools and techniques to have a good work life balance

Using time effectively for work and your personal life allowing you to be

effective, productive and engaged
This workshop was devised especially for LionHeart by Kate Taylor FRICS, an experienced APC trainer and assessor, and is delivered by trainers who have first-hand experience of the surveying industry.
- Read Kate's blog on work life balance
here
Our workshops are free but we are very grateful to those who pay a suggested donation of up to £20 to attend. On average, it costs us £50 a head to offer this service to RICS professionals, so any donations help us to cover these costs!

Hopefully life-changing - excellent!
Excellent, thought-provoking and practical tips to take away
More dates to follow
Webinars
We also run a bite-sized version of this workshop as part of our lunchtime webinar series.
Please check our webinars page for details!
To be added to a mailing list about future CPD workshops and events, please email
events@lionheart.org.uk
.