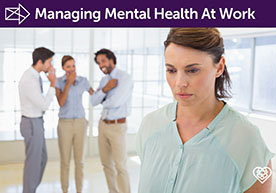 Managing Mental Health at Work
Aim:
Learn how to recognise when a staff member is struggling, and how you can support them professionally.
Who is it for?
Anyone who manages staff or who finds themselves informally doing so. Attendees must have completed the Mental Health Awareness workshop beforehand.
What's covered?
The different models of mental health

How mental illnesses are identified

The causes, signs, symptoms, treatment and support options that relate to stress, anxiety and depression

What organisations are expected to do for employees who are stressed, anxious or depressed.

What individuals are expected to do for themselves

What to do if this doesn't work and the problem worsens

Appropriate language and topics for 1:1 meetings with staff who are struggling
London
Date: 13th February 2018
Time: 1:00pm - 4:00pm
Venue: Number 63 Hotel, 63 Bayswater Road, London W2 3PH
Book your space here
Leicester
Date: 7th March 2018
Time: 1:00pm - 4:00pm
Venue: LCB DEpot, 31 Rutland Street, Leicester LE1 1RE
Book your space here
To be added to a mailing list about future CPD workshops and events, please email
events@lionheart.org.uk
.