2019 John O'Halloran Symposium date announced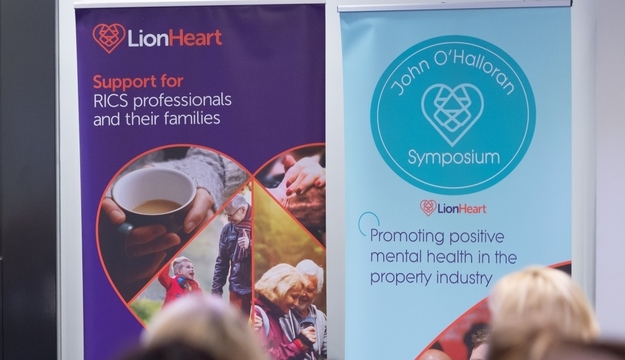 28-02-2019
The date for the 2019 LionHeart John O'Halloran Symposium has been set for Tuesday June 18th.
The mental health awareness event, now in its 4th year, will once again bring together senior property professionals with the aim of tackling the stigma which still surrounds mental ill health.
Held in London, the symposium will hear from inspiring speakers, including some of LionHeart's mental health ambassadors, all RICS professionals who have joined us to raise awareness of the subject by sharing their own journeys with mental ill health. This year will also feature round-table discussions sharing best practice on supporting positive mental health and wellbeing in the workplace.
The very first symposium event was held in 2016 in memory of John O'Halloran FRICS, who took his own life in 2015, aged 63, after a long secret battle with depression and the loss of his wife to cancer. Some of his former colleagues, shocked to discover the extent of John's problems with depression, teamed up with his grown-up children to organise the event as a conversation starter within the property industry, in the hope others would feel more able to disclose their suffering.
LionHeart was later asked to take on the running of a wider mental health initiative in John's name, and continues to work closely with the original organisers as a steering committee.
Hundreds of people have since attended annual symposium events in London, Manchester, Bristol, Cardiff and Edinburgh. Through the project, LionHeart has also run dozens of mental health workshops all over the country.
In addition, we've supported several property firms in their work to sign up to the national Time To Change pledge, which sets out to change attitudes towards mental health and end discrimination.
Jo Grant, JOH co-ordinator for LionHeart, said: "The work of the John O'Halloran Initiative has now reached hundreds of people, through annual events and our ongoing programme of workshops. It is really encouraging to receive enquiries from firms about our work in this area and we hope that this is contributing to a real change for the huge number of people who are experiencing mental health issues at any given time.
"We continue to work closely with John's son, Rob O'Halloran, and former colleagues who all hope that the legacy of this project will be a wider understanding of mental ill health, and that something positive will come out of John's tragic death as a result."
Bookings for the 2019 London event will open in due course. To register your interest in advance please email Jo Grant at jgrant@lionheart.org.uk
VIDEO: Click below to watch John's son Rob talking about his father and his hopes for the work of LionHeart's JOH Initiative