Bookings open for 2019 JOH Symposium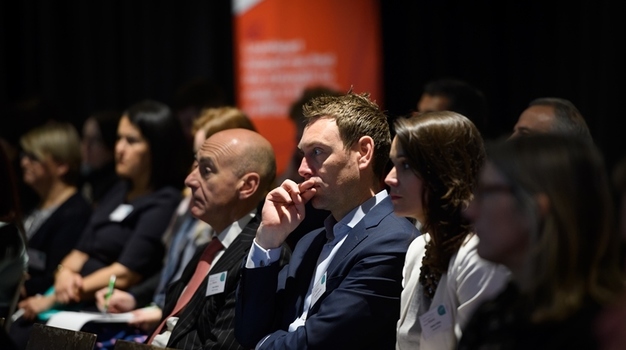 17-04-2019
Bookings are now being taken for the 4th annual John O'Halloran Symposium.
The mental health awareness event will take place on June 18th at Storey Club, Paddington Central, London, with keynote speaker Chris Grigg, CEO of British Land.
Aimed at senior industry leaders, HR directors and those with a responsibility for workplace health and wellbeing, the symposium provides opportunity to hear from key speakers and share best practice on supporting positive mental health at work.
The very first symposium event was held in 2016 in memory of John O'Halloran FRICS, who took his own life at the age of 63 in 2015. The news stunned his former colleagues and friends, who had no idea John had secretly struggled with depression for his whole adult life. They teamed up with John's grown-up children to organise an awareness event for the property industry, in the hope it would encourage conversations and help others to open up if they were struggling.
LionHeart was later asked to take on the running of a wider mental health initiative in John's name, and continues to work closely with the original organisers as a steering committee.
As well as the annual symposium events, LionHeart has run mental health workshops all over the country and supported a number of property firms in their work to sign up to the national Time to Change pledge, which sets out to change attitudes towards mental health and end discrimination.
The 2019 symposium is being kindly supported by British Land and the British Property Federation. The BPF announced at its annual dinner in November plans to partner with the JOH Initiative in order to promote good mental health in the workplace.
BPF chief executive Melanie Leech said: "We continue to champion a more diverse and inclusive real estate sector. This includes creating an industry in which people who experience mental health issues feel they can speak openly and receive the support they need. We're delighted to work with LionHeart to raise awareness of this vital issue."
Jo Grant, JOH co-ordinator for LionHeart, said: "We are very pleased to have the support of the British Property Federation and British Land to help us reach a wider audience than ever before. We are very proud of our work in this area, which has now reached hundreds of people and is hopefully contributing to real change for the huge numbers affected by mental health issues at any given time.
"We continue to work closely with John O'Halloran's son, Rob, and former colleagues, which serves as a powerful reminder of the very real reasons behind this project. We all hope its legacy will be a better understanding of mental health problems, so something positive will come out of John's tragic death."
The symposium is free to attend although LionHeart welcomes donations towards this area of work.