BPF to host mental health breakfast promoting LionHeart initiative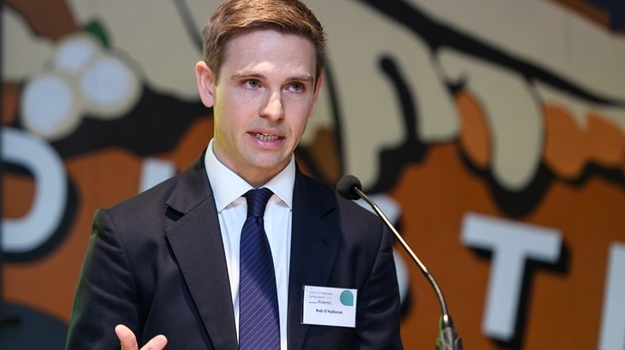 26-03-2019
Mental health and wellbeing in the property industry will be on the agenda at a British Property Federation breakfast hosted by BPF President Robert Noel tomorrow.
Mr Noel, chief executive of Landsec, announced at the BPF Annual Dinner in November that the BPF would be partnering with LionHeart's John O'Halloran Initiative to promote good mental health in the workplace.
The breakfast meeting will hear from former HBOS chairman Lord Dennis Stevenson, who together with Paul Farmer, CEO of mental health charity Mind, wrote a report for the UK government called "Thriving at Work" on how to improve mental health at work.
Delegates will hear more about the work of the John O'Halloran Initiative, which started out in 2016 after the tragic suicide of former company MD John O'Halloran FRICS (below). John had secretly suffered from depression on and off for many years, and sadly took his own life at the age of 63 after losing his wife to cancer.

Stunned by the news, some of his former colleagues together with John's son Rob set about organising a symposium in his name, held in May 2016. Their aim was to bring the subject of mental health and suicide into the open, and to start a conversation among property colleagues. They later approached LionHeart to take over the running of a wider mental health project.
Also addressing the breakfast will be Rob O'Halloran (pictured top), who will explain how he hopes the work of the project will create a positive legacy out of his father's tragic death.
LionHeart chief executive Davina Goodchild said: "We have now reached hundreds of people through annual symposium-style events and through dozens of mental health workshops for property professionals all over the country.
"The LionHeart team have also supported a number of property firms in their journey towards signing up to the national Time to Change Pledge, which aims to end discrimination in the workplace against people who suffer from mental health problems.
"We hope this is all beginning to contribute to real change for the huge number of working people who are experiencing mental ill health at any one time. We continue to work closely with John's son and former friends and colleagues, whose energy and commitment to the project are a constant reminder of the very real, and tragic, personal reasons behind it."
Melanie Leech, chief executive of the British Property Federation, said: "The BPF continues to champion a more diverse and inclusive real estate sector, and this includes creating an industry in which people who experience mental health issues feel that they can speak openly and receive the support they need. We are therefore delighted to partner with the John O'Halloran initiative and to work with LionHeart to raise awareness of this vital issue."
The breakfast event comes ahead of the 2019 John O'Halloran Symposium, which is to be held in London on June 18th. Bookings for this event will open shortly but interest can be registered in advance by emailing jgrant@lionheart.org.uk
Find out more:
VIDEO: Rob O'Halloran speaks about his father and the work of the project in his name below:
NOTES:
Find out more about LionHeart's JOH Initiative here