Can you support LionHeart's 2023 Christmas hamper appeal?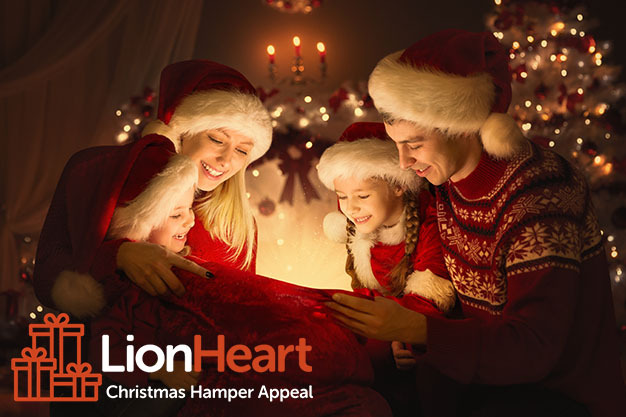 16-11-2023
As we approach the end of 2023, it has been a busy year for LionHeart with another increase in the number of people and families we're helping, with services ranging from emergency financial grants and legal advice to emotional support through mental and physical ill health.
The current economic climate continues to contribute to uncertainty and worry for many people and so we anticipate that we'll carry on seeing a steady rise in the number of calls to the LionHeart helpline.
Whatever circumstances surveyors find themselves in and no matter where in the world they are based, the LionHeart team aims to offer year-round lifelong support for them and their families.
That support doesn't stop at Christmas. In fact, sometimes this can be an even more difficult time of year, perhaps due to the additional financial commitments, the memories it can hold for those who are grieving, or the pressure it can put on people, mentally and physically. If someone is already struggling, the festive period can be especially overwhelming.
Can you support our 2023 hamper appeal and make Christmas feel a little brighter for the people we're helping?
Each Christmas we send festive hampers to some of the people and families we're helping. They might be at the start of a counselling journey with LionHeart following a family illness or bereavement, for example, or they may have been receiving financial support due to an unexpected loss of income. People who - for all sorts of reasons - might be feeling dread and worry this Christmas, instead of excitement and joy.
Bena Kansara, LionHeart support services manager said: "We pride ourselves on our personal approach and the tailored support we are able to offer people in difficulty. We're asking our generous supporters to help us go that extra mile and brighten up the festive period for those who are struggling.
"These hampers are filled with some little luxuries and treats but, more importantly, they show people that we're in their corner. We recognise a hamper won't make their difficulties disappear, but just knowing that someone is thinking of them can help provide a glimpse of light during an otherwise dark time."
Previous hamper recipients have told us how much the gesture meant to them at a difficult time in their lives.
Can you, or your firm, donate to our festive fundraiser today?
Donations of any size make a huge difference to the people we help! If you're able to donate and help brighten Christmas for someone who is going through a tough time, we'd be incredibly grateful.
Thank you so much for supporting LionHeart today, and throughout the year!
To make a personal donation
You can make a personal donation quickly and securely online. Please remember to complete the Gift Aid Declaration to increase the value of your donation (at no extra cost to you!)
To make a corporate donation
You can make a corporate donation online. Please remember to include your company name in the comments so we can thank you properly! You can also donate via bank transfer by contacting our corporate fundraiser, Carolyn McDonald.
Thank you so much for your support!