CBRE's RICS members donate £16,680 to LionHeart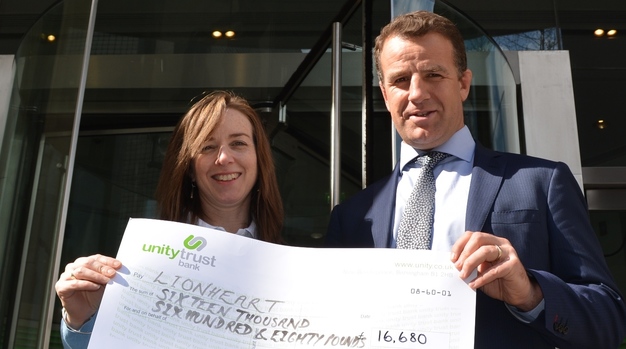 25-04-2016
LionHeart is delighted to announce the results of a recent fundraising campaign with CBRE, the world's leading commercial property and real estate service adviser.
The initiative raised almost £17,000, which has now been handed over to LionHeart CEO Davina Goodchild by Ciaran Bird, CBRE's UK Managing Director.
Usually, RICS members are asked if they would like to make a small donation to LionHeart as part of the annual subscriptions process. Last year, an extra 20% of members chose to donate to us in this way.
But employees of large firms often have their RICS subscriptions paid for them, and were therefore missing out on the chance to donate.
CBRE's leadership team joined forces with LionHeart on a joint campaign to raise awareness of the benevolent fund's work among their employees, and encourage them to make a donation. The firm is now encouraging others in the industry to follow suit.
Davina Goodchild, chief executive of LionHeart, said: "Like many property companies, CBRE supports the annual RICS subscription for their staff who are RICS members. An unintended consequence of this is that staff haven't had the opportunity to make a donation to LionHeart through their subscription form.
"Once this issue was brought to CBRE's attention they were very supportive of our efforts to raise more awareness about how RICS members whose employers pay their subscriptions for them can support LionHeart."
Ciaran Bird, UK managing director for CBRE, said: "We are delighted that CBRE's RICS members have again made a generous donation to LionHeart in support of their important work.
"We hope that all organisations in our sector will continue to support LionHeart's work for RICS members, past, present and future, and their families."
LionHeart's support for RICS members and their families ranges from financial grants, to health & wellbeing services including counselling, and work-related support such as a Back to Work scheme for those members facing unemployment or redundancy. With a donation of just £50, we can to offer counselling to an RICS member facing stress, depression or other emotional difficulties. £25 gives them access to free legal advice.
To find out more about getting help call the helpline on 0845 603 9057 or email info@lionheart.org.uk