Change your habits this No Smoking Day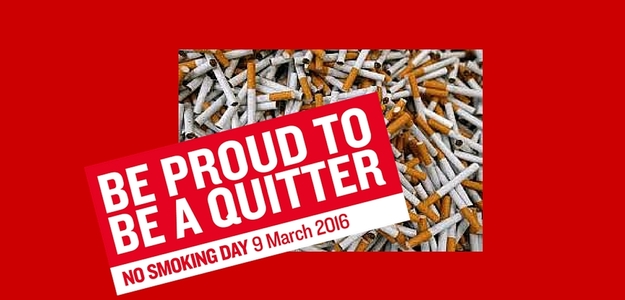 08-03-2016
Smokers are being urged to take a step towards quitting for good on No Smoking Day, on Wednesday March 9.
Figures from public health charity ASH show that while two-thirds of smokers want to quit, nearly one in five adults in the UK continue to smoke.
This year's 'Proud to be a Quitter' theme draws on inspirational stories of ex-smokers and how giving up improved their lives and health. But even if you have the motivation to give up, actually breaking that habit is sometimes easier said than done.
LionHeart counsellor Bernadette Antoniou says one of the first steps to breaking a habit is being aware of your behaviour.
"The person needs to be aware of certain situations that they find themselves in that may trigger stress or anxiety, making them more likely to reach for a cigarette. A diary may help them to understand their triggers," she says.
"Incorporating mindfulness breathing techniques to help alleviate stress when it arises might help. Or could they do something different at that moment to take their mind off that need for a cigarette?
"Finally, maybe a holiday or a goal that they would like to achieve as a reward for cutting down or quitting, as a result of saving money otherwise spent on cigarettes, may help motivate."
Counsellor AnnMarie McKeown adds: "Look at the triggers which make you want to smoke and then try to substitute the cigarette with a practical exercise such as going out for a walk, mindful breathing, setting a goal per day to complete, writing how they are feeling in a diary, or setting 'worry time'."
The No Smoking Day campaign, now in its 33rd year, is run by the British Heart Foundation.
Dr Mike Knapton, associate medical director at the BHF, said: "Giving up smoking is the single best thing you can do for your health, and that's why the British Heart Foundation runs No Smoking Day.
"We're encouraging smokers to take the first step towards a smoke-free life."
And campaigners say it's not just your health that will benefit from giving up: your bank balance will also be happier.
The average 20-a-day smoker who pays around £8.50 per pack of cigarettes will save themselves just under £60 a week if they give up - and a whopping £3,102 over the course of their first smoke-free year.
Useful links
No Smoking Day website
LionHeart health and wellbeing pages