Christmas hamper appeal 2021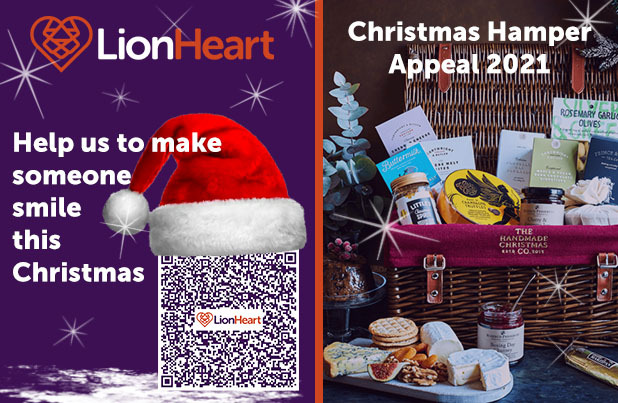 16-11-2021
Although the world seems to be taking steps back to normality, times remain very tough indeed for some of the people we're supporting.
This Christmas, we're asking our many generous supporters to make a small donation to our Christmas hamper appeal and help us put a smile on their faces.
Each year we send festive hampers to some of the people we're helping. These might be people who are in difficult circumstances due to job loss, serious illness or even a family bereavement - people who, for all sorts of reasons, might be dreading the Christmas period instead of looking forward to it.
Bena Kansara, support services manager, said: "Christmas can be an exceptionally difficult time if you're feeling low and we like to do something extra for some of the people we're supporting. The hampers are filled with some little luxuries and treats but more important is the gesture, and the fact that our people know that they're in our thoughts and that we're in their corner.
"At LionHeart we are exceptionally lucky to have such generous supporters who donate to support our work every year, knowing that what they give goes to help someone just like them who has hit a difficult time.
"If you're in a place where life might be starting to feel a little more normal again and you're counting your blessings, we'd be incredibly grateful if you would consider making a small donation to help us brighten Christmas for someone who is in a less fortunate position."
Previous hamper recipients have told us how much the gesture meant. Messages we received last year included:
"I don't know where to begin other than a massive THANK YOU for all your support and help: to receive a hamper from LionHeart today was just amazing. I will confess to an emotional time when I realised who had sent it - you have, once again, lifted my spirits. I do find Christmas difficult but now I have a wonderful selection of goodies to share with family and friends."
"Just wanted to say thank you for the Christmas hamper. That put a huge smile on my face this morning, but also, I shed a tear of happiness. Thank you to all of you for being so kind and thoughtful and particularly for all your help this year. Things have been going really well and I am pleased to say life is improving despite the pandemic."
Can you support our festive fundraiser by donating today? Gifts of all sizes make a huge difference. Thanks so much for your generosity!
It's really easy to give no matter where you are in the world and however you want to pay through Just Giving
You can also text LIONHEART to 70085 to automatically donate £5 (or £X to donate a different amount) Standard text rates apply.
If you're a firm that would like to make a corporate donation, please contact LionHeart fundraiser Carolyn McDonald at fundraising@lionheart.org.uk