Corporate Bushtucker Trail challenge raises £8K for LionHeart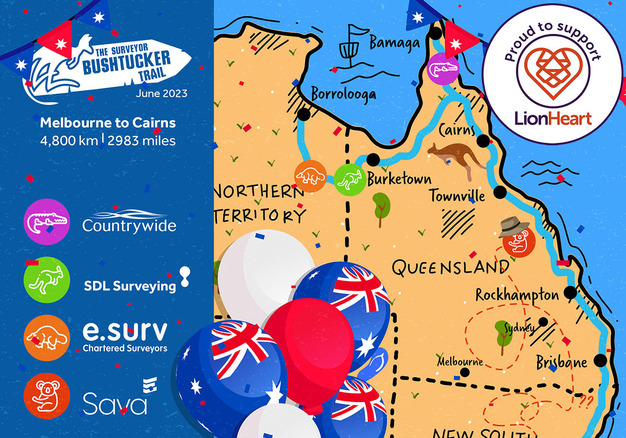 12-07-2023
Four teams of surveyors who undertook a month-long fundraising challenge for LionHeart have covered thousands of kilometres and raised thousands of pounds.
The 25-strong teams from SDL Surveying, Countrywide Surveying Services, esurv and Sava - which included several graduate surveyors - competed against each other in a virtual 'race' along the east coast of Australia, logging their distances by running, walking and cycling.
Dubbed the Surveyor Bushtucker Trail, participants aimed to cover the 4,800km distance between Melbourne and Cairns, with a target to raise £4,000 for LionHeart. In fact, they covered a collective 19,000km and raised over £7,800 in sponsorship, which included match-funding contributions from SDL, esurv and Sava.
LionHeart corporate fundraiser Carolyn McDonald said: "We absolutely loved the enthusiasm - and good-humoured sense of competition - of this challenge and seeing all the pictures and posts on LinkedIn.
"We know the firms enjoyed the team-building aspect of the challenge but what was really lovely was that they never lost sight of the aim, which was to raise as much money as possible to help us help their fellow surveyors. There was lots of good-natured banter between teams about who would 'win' the race and raise most money, but the real winners are LionHeart and, of course, the people we support."
The 2023 challenge followed an inaugural fundraiser last year by SDL Surveying and Countrywide in which teams from the firms competed in a virtual race along America's famed Route 66. It was such a success that this year the firms decided to test themselves against a longer route - and were joined by surveyors from esurv and Sava.
The challenge got underway on June 1st and SDL Surveying were the first team to 'reach' the original goal destination of Cairns, days before the end of the month. But esurv rallied in the final days and their team members ended up clocking up the most distance, covering 6,363km in total.
And Sava, although behind in the steps count, came out on top of the leaderboard for raising the most money for LionHeart.
Carolyn added: "We're grateful to all the individuals who took part and to all those who donated to support their efforts, as well as to the firms for coming up with the idea and driving it forward. There is already talk of planning a similar 2024 challenge which we're very excited about, especially as it will fall in LionHeart's 125th anniversary year.
"If there are any firms out there interested in getting involved in that - or at least finding out more - we'd love to hear from them!"
Watch below for the moment the final distances were revealed on a Teams call.... video courtesy of SDL Surveying's Adrian Drummond MRICS...