Could you be one of our next trustees?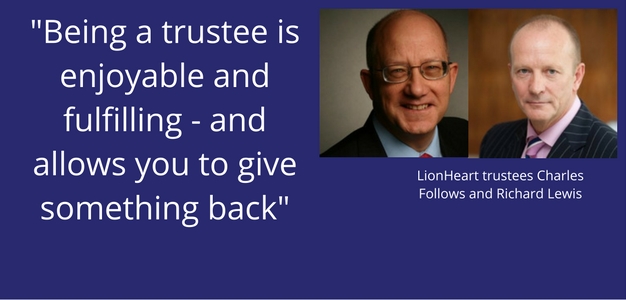 03-10-2016
LionHeart is actively seeking new volunteers to join its Board of Trustees.
CEO Davina Goodchild said: "We're looking for strategic thinkers with drive, ambition and commitment to help us plan for the future and deliver our strategy.
"If you'd like to join an organisation that is making an impact, work with a committed and challenging team, and really feel like you're helping to make a difference to people in need, then maybe this is a role you'd like to consider.
"Our trustees play an absolutely vital role in what we do, but I know that they would also say they get a lot out of it, too."
Recruitment aims to fill positions that will be vacated by long-serving trustees stepping down. LionHeart particularly wants to hear from candidates with one of the following:
Connections within RICS and up to date understanding of issues affecting members
Investment management experience
Experience of marketing and promotion in a not-for-profit environment
Experience of or involvement in long term fundraising strategy
Experience of philanthropy/ providing advice or expertise to philanthropists
The positions are unpaid, but all travelling expenses are reimbursed. Trustees are usually asked to make four board meetings and an 'away day' a year, and involvement in sub committees or working groups may add on a couple of extra days.
Current trustees say that they get a great deal out of their involvement with LionHeart on a personal level, though.
Richard Lewis, Property Director at Town Centre Securities and current chair of the board, said: "Being able to give something back to the profession and at the same time be involved in helping those in need has been hugely rewarding. I would recommend to it anyone."
Fellow trustee Charles Follows added: "Being a trustee of LionHeart is a challenging and salutary experience - when you see the misfortunes and problems in the case studies from the range of members and families LionHeart has helped, it makes me realise how fortunate I have been in my career and personal life.
"Ultimately, being a trustee is an enjoyable and fulfilling role, enabling me to give back something to a profession that has given me a good career, by helping those less fortunate because of ill-health, business difficulties, or plain bad luck.
"I urge fellow members to do their bit and help LionHeart in any way they can: by volunteering, referring colleagues to us for help and, of course, donating to ensure we are around for another 100 years to help future generations of chartered surveyors and their families."