Huge turnout for London John O'Halloran Symposium
11-05-2017
More than 100 people from across the property industry have come together to discuss mental health in the workplace at a symposium organised by LionHeart.
The 2017 John O'Halloran London Symposium took place at U&I on May 9, during Mental Health Awareness Week, with two follow-up regional events planned for Manchester and Bristol later this month.
Last year's inaugural event was organised by family members and former colleagues of John O'Halloran, a Fellow of the RICS and former MD of BAA Lynton, who tragically took his own life in 2015 after secretly battling depression for many years.
It aimed to raise awareness and prompt change within the property industry to provide better support for those affected by mental health issues. LionHeart later took over the running of a longer term initiative in John's memory, working closely with the original organisers who remain involved as a steering committee.
This year's event included speakers from the property industry, business, and mental health charities.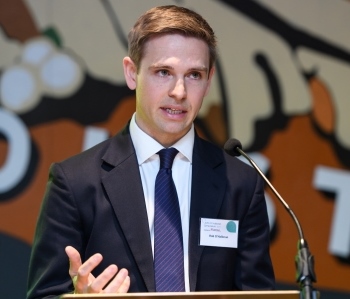 John's son Rob (pictured left) told delegates how he hoped the symposium and partnership work with LionHeart would lead to "positive, tangible" outcomes for members of the profession, adding: "My sister Lucy and I want to feel that something positive has come from Dad's death."
Transatlantic challenge Row For James team-mates Harry Wentworth-Stanley, a chartered surveyor at Savills, and Rory Buchanan shared their moving story. The four-man team undertook the gruelling 3000-mile race in December, 10 years after his 21-year-old brother James took his own life. The pair showed video clips and pictures of their time at sea and revealed the challenge had raised over £600,000 to open the first in a planned series of non-clinical crisis centres for those at high risk of suicide.
Nick Martel, CBRE executive director, gave a workplace case study of efforts within CBRE to provide better mental health support, and took part in a panel Q&A with Business in the Community wellbeing director Louise Aston and LionHeart chief executive Davina Goodchild.
RICS professionals Kirsty Harvey and James Crawford - who have both become mental health ambassadors for LionHeart's John O'Halloran Initiative - bravely shared their personal experiences of life-changing periods of mental ill health and their recovery.
APC assessor and trainer Kate Taylor FRICS talked about the need to implement pastoral care early on in people's careers, and gave a taster of the work-life balance workshop she delivers as part of LionHeart's wellbeing programme.
The audience also heard from Sarah Renstall, of national mental health campaign Time To Change, which encourages organisations to sign up to a Pledge which promises to put employees' wellbeing at the core of business practice.
LionHeart CEO Davina Goodchild said: "The stigma attached to mental ill health and the lack of understanding about it can often lead to inaction because people don't know what to do or where to turn. Intervention at the right time can help, and we know from our work at LionHeart that, when people do reach out, that support can change lives."