"I hope something positive will come from dad's suicide"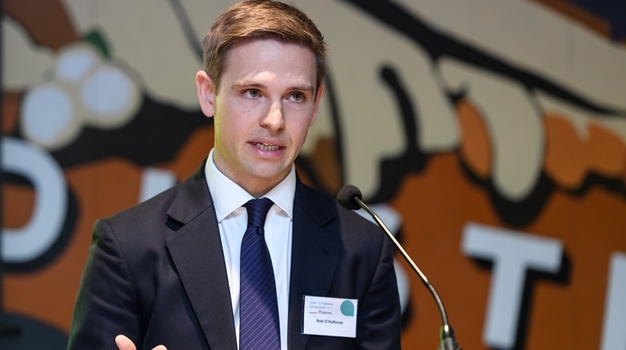 24-05-2017
There can be nothing more heartbreaking to know that someone you loved was so ill and unhappy that they felt their only option was to take their own life.
But that is what Rob O'Halloran and his sister Lucy must live with: their father John O'Halloran, a successful chartered surveyor and former company MD, took his own life in 2015 after a long struggle with depression.
Yet the pair are determined that something positive will come out of the tragedy, after throwing their weight behind an initiative in John's name which aims to help change attitudes towards mental ill health in the property industry, and tackle the stigma surrounding it.
Rob was recently filmed for a video which was played at the beginning of three John O'Halloran Symposium events this month, in which he spoke movingly about his dad and the reasons for backing a wider John O'Halloran Initiative.
Describing John as a "great guy, a family man", Rob said his parents had been happily married for over 30 years. In later life John had become an "active and playful" grandfather to Lucy's two children, "a role he really relished".
Successful in his career as a chartered surveyor and former MD of BAA Lynton, to the outside world it seemed that John had it all.
But Rob said: "One of the things the outside world didn't see was the fact that for very many years he had suffered from depression. There was a taboo around the subject, and he was probably of a generation that just didn't talk about mental health as an issue."
He described periods of depression which came and went over the years, and how John's wife Linda had been an immense support throughout these times. But after she died from breast cancer in 2012, that vital source of support was gone.
"What changed was that pillar of support, that real bastion for him, someone who kept him going during those difficult periods," said Rob.
After Linda's death, John appeared to be coping well. It seemed he had determined that he would live life to the full. He filled his retirement with voluntary work and sporting hobbies, and enjoyed spending time with his family, but sadly this period of stability was not to last.
"As ever was the case with Dad," said Rob, "he had a decline into a period of depression and really what was different this time was there was no supporting figure in place of my mum to help him out of it.
"Both my sister and I were concerned as we saw his mental state decline over a period of time.
"He was very good at putting on a brave face, he had the image of being someone who was strong and independent. To the outside world it wasn't noticed, which made the shock of his suicide even more impactful.
"Over the course of a lifetime he really developed a public/ private personality. I think he probably felt that talking about his mental state, his depression, giving it a name, would somehow expose him and show weakness - he felt he needed to be the rock on which the family was based."
Talking about the aims of LionHeart's John O'Halloran Initiative, Rob added: "I think it is great to talk about mental health, as a policy and a health issue, but I'm quite a practical person, and it's really good to see some hard and fast practical outcomes achieved, so that is the beauty of the partnership now in place between the symposium and LionHeart."