It's Time to Talk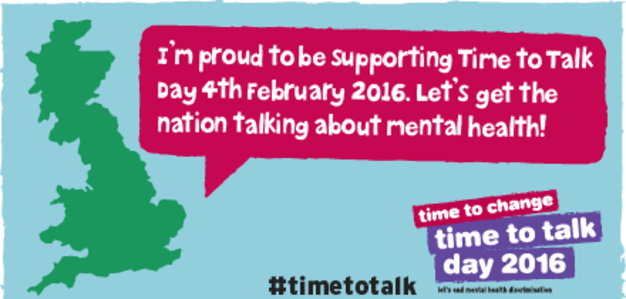 04-02-2016
Would you know how to start a conversation about mental health?
A staggering one in four of us will be affected by mental health problems every year.
Yet the majority say they have faced negative treatment from others as a result, or are afraid to admit they are struggling in case it affects their relationships or job.
Thursday February 4 is Time to Talk Day - a day when people are encouraged to help break the silence and bring mental health issues into the spotlight.
One of the key messages from charities Mind and Rethink Mental Illness, which run the wider Time to Change programme, is that you don't have to be an expert to talk about mental health - far from it. Just by starting a conversation about how someone is feeling can help end the stigma faced by mental health patients, and make them feel like they are not alone.
Time to Talk's simple Conversation Starter includes the following suggestions:
1. Share with someone the thing that makes you smile the most
2. Text or ask a friend, "How are you?
3. Call someone you've not spoken to for a while
4. Perform a random act of kindness for someone
5. Thank someone for something they've done for you
6. Go for a walk with someone and see how they're doing
7. Make someone a cup of tea and have a chat while you drink
8. Find out what someone does to relax
LionHeart counsellor Bernadette Antoniou says: "People underestimate the power of talking. It can be difficult to make that decision to share your difficulties with someone.
"But the feedback we receive from those that have had counselling with LionHeart is that they wished they had contacted us sooner. Don't wait, share it with another."
· If you, a colleague or a member of your family would like to talk to someone about mental health issues, LionHeart's trained counsellors are here to help. We can offer counselling by phone or secure online video calling.
Find out more by calling 0845 6039057 or email info@lionheart.org.uk