John O'Halloran Symposium 2018: Save the Date!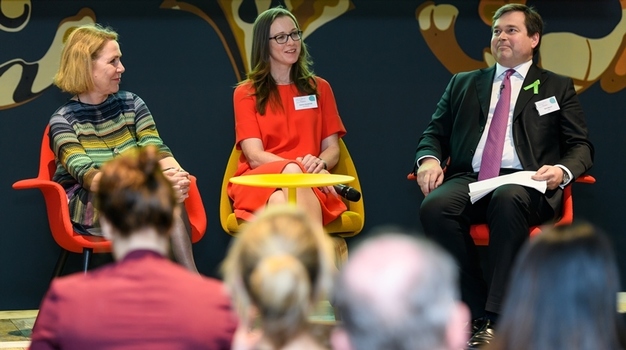 24-01-2018
Property professionals are being urged to 'save the date' for the 2018 John O'Halloran Symposium mental health awareness events, which will take place during May.
The aim of the annual events, which are put on by LionHeart, is to tackle the stigma which still surrounds mental ill health, and to raise awareness within the property industry of the importance of positive mental health and wellbeing in the workplace.
The very first event was held in 2016 in memory of John O'Halloran FRICS, who had sadly taken his own life the previous year after a long secret battle with depression. John's children and former colleagues organised the event which aimed to be a conversation starter within the industry, and hopefully bring about some positive changes in attitudes.
LionHeart was later asked to take on the running of a wider mental health initiative in John's name and in May 2017, ran three symposium events in London, Bristol and Manchester (pictured above).
This year the John O'Halloran Symposium will run in four cities across the UK: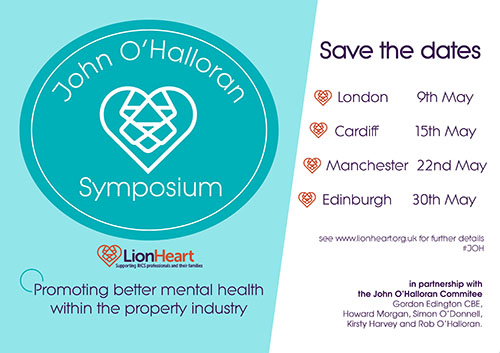 Jo Grant, who co-ordinates the John O'Halloran Initiative for LionHeart, said: "Following the success of the 2017 events, we were overwhelmed with the support we received from firms and individuals who have been really keen to get on board.
"In particular, we had a number of people volunteer to be mental health 'ambassadors', who are playing a hugely important role in helping us raise awareness by sharing their own stories and experiences of mental ill health. Hopefully this will help start the kind of conversations which will make it easier for anyone who is struggling to ask for and receive the support they need in the workplace.
"We continue to work closely with John O'Halloran's son, Rob, and former colleagues, who hope the legacy of this project will be to raise awareness of these important issues, and that something positive will come out of his very tragic death as a result."
Each symposium event will feature some of the LionHeart ambassadors as well as industry figures and experts from the field of mental health. There will also be chance to discuss practical steps that can be taken in the workplace to provide better support for staff wellbeing, and how to tackle the stigma often faced by those who suffer from mental health problems.
Bookings for the 2018 events will open in due course but to register your interest in advance please email Jo Grant, Mental Health Project Co-ordinator, at jgrant@lionheart.org.uk
VIDEO: Click below to watch John O'Halloran's son, Rob, talking about his father and his hopes for the work of LionHeart's John O'Halloran Initiative