Join the conversation: mental health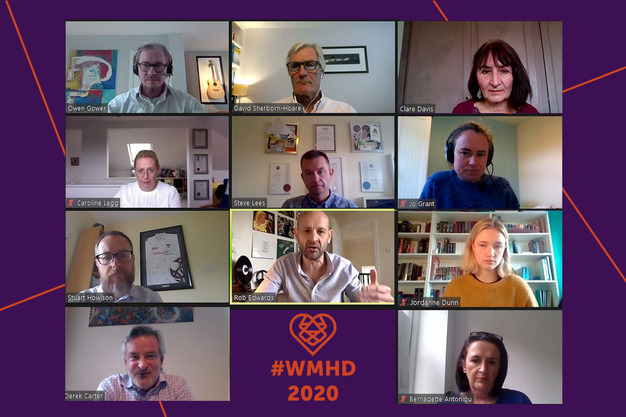 15-10-2020
Some of the LionHeart mental health ambassadors - all RICS professionals with lived experience of mental health issues - joined us for a day of online events to mark World Mental Health Day.
The 'Join the Conversation' events were held on Friday October 9th, ahead of the global awareness day on the 10th - and aimed to remind people that talking about mental ill health can save lives.
Jo Grant, LionHeart's wellbeing projects development lead, said: "We are always grateful to our ambassadors who give their time and energy and honesty so generously. There is nothing more powerful than hearing real stories from real people, and we hope their messages will prove inspiring and illuminating for everyone who listened in.
"In a year that has been particularly tough and often isolating for many people, mental health needs to be more on the radar than ever, which is why it's so important to keep the conversations around this sometimes tricky and uncomfortable subject going. We'd encourage any surveyor who is struggling to give us a call and see how our expert team can support them."
One of the common themes that came out of the conversations were how many of the ambassadors looked, to the outside world, like they were happy and successful, and yet inside they were often struggling. For many, they hid the problem even to themselves until they were pushed to breaking point.
Recorded versions of the two 'In Conversation With…' events can now be downloaded for those who were unable to join us on the day. Please follow the links below.
In Conversation With… LionHeart Mental Health Ambassadors
Five of our mental health ambassadors, all RICS professionals, share their own lived experiences, plus a discussion around mental health and Q&A.
Chaired by Rob Mitchell-James, one of our mental health trainers, our panel includes: Owen Gower, Steve Lees, Caroline Legg, Stuart Howison & David Sherborn-Hoare
Download the recording
In Conversation With… LionHeart Support Team
LionHeart counsellor Bernadette Antoniou and support officer Clare Davis - who have helped thousands of people in many years with LionHeart - explain some of the ways the team is supporting people with mental health and other issues.
They are joined by two of our mental health ambassadors, Jordanne Dunn and Derek Carter, who share how LionHeart's support helped them.
Download the recording

LionHeart also regularly runs live webinars to support surveyors' mental health and wellbeing. To see the full range and forthcoming dates click here