LionHeart 2018 Impact Report published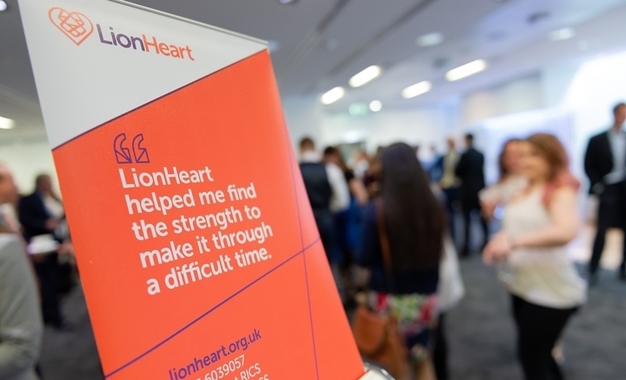 11-10-2018
LionHeart has published its latest Impact Report showing how the charity has grown and helped more people than ever before over the last five years.
The 2018 Impact Report will be sent out to people receiving their RICS subs reminders from early next month, and can also be downloaded from our website.
Reflecting on the organisation's year, CEO Davina Goodchild said: "Each year when we start planning our Impact Report we wonder how we can best illustrate the amazing work done by the LionHeart team, and how that work is having an incredible impact on the RICS professionals we support every year.
"We know what we do makes a real difference to people when they need it most because they tell us so: over 95% of the people we helped last year told us they felt more able to move on with their lives after a period of support, whether that was financial help, employment support or counselling.
"As well as that incredible feedback, more than six in 10 were able to point to at least one practical, concrete difference LionHeart had made to their situation - things like being able to keep their job or their home after some kind of crisis or serious health problem. Many were able to secure a new job after receiving specialist employment support through us; others saved their relationship or had help to resolve a legal issue."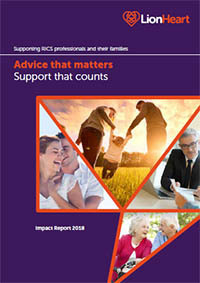 Over the last five years LionHeart has seen an unprecedented growth in services and reach. In 2017-18, we helped 198% more people than we did in 2013-14 - partly because we've worked hard to expand the different ways we can support RICS professionals and their loved ones through tough times.
The professional counselling service introduced a few years ago is now highly regarded and sought after. Last year we supported 40% more counselling clients compared to the previous year, and 130% more than in 2014-15. Some 15% of all calls to our helpline are now prompted by concerns over mental health problems, including stress, depression and anxiety.
Our expanded employment support offer meant we were able to help 28% more people following job loss, redundancy or a career break.
We also supported people financially and emotionally through serious ill-health and following a family bereavement.
Davina Goodchild added: "When we send out our Impact Report we ask RICS professionals to consider making a donation to support our work, and we very grateful to the tens of thousands of you who choose to do so every year.
"These donations are spent on providing expert support to people just like you, at those times in their lives when they need it most.
"Last year we spent more than £1.75million reaching out to more people than ever before, so your donations are more important to us than ever."
Download the latest Impact Report
here