LionHeart ambassador highlights mental health in property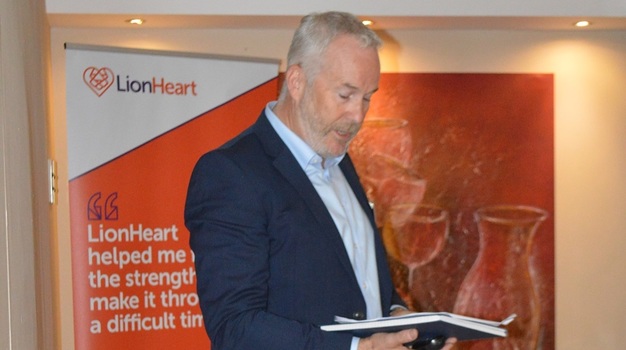 04-01-2018
One of LionHeart's mental health ambassadors has been asked to write a series of blogs exploring the issue for Place North West, a business-to-business website aimed at property and regeneration professionals in north west England.
Alan Burke will focus on the subject of mental health in the property sector, sharing his own struggles and experiences during his 30 years as a chartered surveyor and development director.
After experiencing an episode of severe depression in 2015 - which he describes as a "rather spectacular blowout" - Alan took time out of the workplace to tackle the mental health issues that had in fact been bubbling under the surface for several years. Now on a path to recovery and running his own consultancy, when he heard that LionHeart was looking to recruit industry 'ambassadors' to help raise awareness of mental health issues, he was keen to get involved.

He says: "I hope through my involvement as a LionHeart ambassador, and through the blogs for Place North West, to try and encourage people to talk. You can't hide this stuff: it comes back to bite you, and it bites you hard.
"My aim is to help and encourage others to maintain a balanced mental health and thus sustain a long and rewarding career in a fantastic industry."
Talking about his own experiences, he says he still doesn't have "all the answers" but says: "I do now understand a lot more about myself and a great deal more about the issues I had been facing - or, more accurately, refusing to face. One thing is very clear to me - I failed to take care of my mental health and consequently in an emotional and professional sense I 'hit the buffers' and was diagnosed with depression.
"Even now, depression is a word that conjures up a range of responses and images, all pretty negative - that someone who suffers from depression can't hack it, they're weak, or a risk to the business.
"It's just plain wrong. Even a cursory glance at the statistics prove what a widespread and worryingly common affliction depression is."
At his worst point, Alan's depression left him completely unable to function. He was, he says, "an anxiety-wracked shadow" of his professional, successful self.
Eventually disclosing his problems to the outside world proved to be far more positive that he anticipated: "I have been both amazed and totally humbled by the response of friends, colleagues, clients and associates throughout the industry. Facing up to my issues with the help and support of those I admire, respect and enjoy working with has been my salvation."
Despite a big shift in attitudes towards mental ill health, Alan still believes there is some way to go.
"We talk these days about designing buildings that actively improve our wellbeing, promote our health and happiness, and rightly so. But if we put this much emphasis into our modern-day buildings, surely we can all learn to invest a little more time and consideration to ourselves and our expensively trained minds."
Find out more: