LionHeart among charities who supported almost half a million people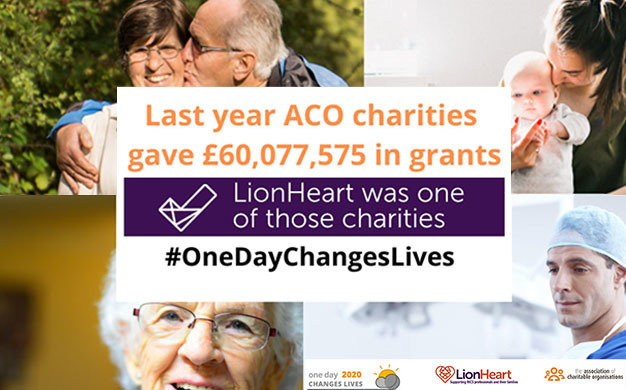 22-01-2020
Almost half a million people turned to charities for help in a single year, new figures have showed, with LionHeart among a body of 120 charities that gave £216million worth of financial assistance to people in need.
As January highlights the emotional and financial difficulties faced by many people, the national data from the Association of Charitable Organisations showed that over 400,000 people were supported by its member organisations.
The numbers of people seeking help from charities including professional benevolent funds like LionHeart because they have nowhere else to turn has also risen over the last four years. Many of them have experienced a sudden change in their circumstances - serious illness or an accident, family breakdown or job loss - which have left them and their families struggling to cope.
Support given by LionHeart includes emotional and practical support, counselling and coaching to support people's wellbeing, as well as financial grants.
LionHeart is just one of the 120-plus grant-giving charities represented by the ACO. A recent survey of ACO members showed that more than 100,000 people applied for financial help in the last financial year. When extrapolated across its entire membership base, it is estimated ACO member charities will have supported at least 400,000 people in need. In 2015, the charities distributed more than £56million in grants. In comparison, this rose to more than £60million last year - £216million when applied to its entire membership base.
The ACO is highlighting the work done by its member charities across the UK on 22 January 2020 to show what a collective impact they are making on people whose lives were turned around thanks to the support they received.
Its campaign, One Day Changes Lives, supported by LionHeart, aims to show how an individual act of support granted by a charity in a single day can go on to have a huge impact in improving someone's life.
Donal Watkin, Chief Executive at ACO, said: "These figures show the increasing levels of support needed by people with nowhere else to turn. Today we're highlighting the big difference our members make to people's lives through financial and non-financial help, and the role charities continue to play in the UK."
Those supported by the charities were driven into a crisis for reasons including them or a family member facing sudden illness or disability, incurring costs for unexpected household repairs or bills, being unable to pay the high costs associated with a health condition, poor mental health, being involved in an accident, family breakdown, or redundancy.
Davina Goodchild, CEO of LionHeart, said: "We at LionHeart are very proud of the impact we have on the lives of people who turn to us for help. Last year we helped hundreds of people get through a difficult time in their lives, in some cases enabling them to keep their home or job through a period of crisis or ill health; helped many people back into the workplace after a period of unemployment; and many people who received counselling or other emotional support later told us they felt able to move forward with their lives.
"We are just one of a myriad of similar organisations and benevolent funds who are quite literally changing lives for the better on a daily basis."
While some ACO members are predominantly grant-making organisations, many others also provide practical assistance, employment support, befriending services, and mental health and wellbeing support, which have become an increasingly important part of the services offered by LionHeart in recent years. Collectively, ACO charities are reporting an increase in supporting applicants with non-financial aid, rising from 60,584 people helped in 2015 to 93,308 in 2018.
LionHeart is encouraging its supporters to share the awareness campaign on social media using the hashtag #OneDayChangesLives
For more information about the campaign and ACO charity members visit www.aco.uk.net/page/One-Day-Changes-Lives

If you are a past or present RICS professional who needs support please call LionHeart free on 0800 009 2960.

Download our Impact Report to see more of the work we are doing here