LionHeart board chair to serve second term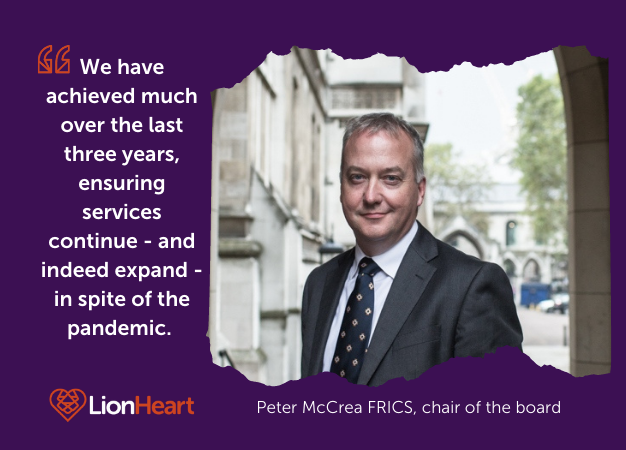 01-07-2021
The chairman of LionHeart's board has been re-elected by his fellow trustees to serve a second term at the helm.
Peter McCrea FRICS is set to serve a further three years as chair following the most recent meeting of the board this week.
He said: "I am delighted to continue in post as chair of LionHeart. We have achieved much over the last three years, during which the whole team has ensured services continue - and indeed expand - in spite of the pandemic.
"But we are not resting on our laurels and the board has an important few years ahead, as we reach the mid-point of our ambitious five year plan for growth."
Peter, a father-of-two, spent 25 years in private practice specialising mostly in dispute resolution before he became the youngest ever appointed surveyor member of the Lands Tribunal, based at the Royal Courts of Justice, in 2013. He joined the LionHeart board in early 2017, stepping up to become chair 18 months later.
Welcoming his reappointment, LionHeart CEO Davina Goodchild said: "Peter is a brilliant chair; he stepped into the breach unexpectedly and has steered our ship excellently since then.
"He's a great chair to work with; a critical friend and a real champion of the people we help as well as strategically minded and pragmatic. I'm so pleased he's said yes to another three years!"
Peter added: "We are looking forward to sharing our most recent Impact Report soon, which is always a proud moment and shows the many ways LionHeart continues to make a difference and support the whole RICS community, especially during what has been a challenging time for so many people all over the world."
Read more: