LionHeart recruiting for new trustees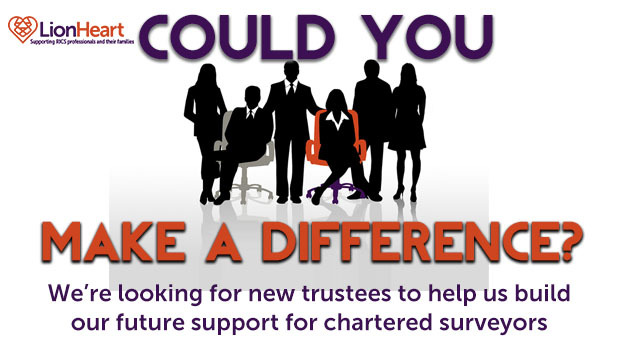 27-04-2018
LionHeart has begun a recruitment campaign to add new volunteer trustees to its board.
CEO Davina Goodchild described it as a great opportunity for people with drive and ambition to play their part in ensuring their charity adapted with the times, and continued to develop services to provide the very best of support for RICS professionals.
She added: "We want candidates who will help us plan for the future and deliver our strategy - and ultimately provide the support that really matters to people when they need it most.
"If you'd like to join an organisation that is making an impact and really helping to change lives for the better, then this could be a role for you. We're also really keen to diversify our Board and would welcome applications from all ages and backgrounds."
In particular, during this round of recruitment, LionHeart is looking to recruit someone with the financial knowledge and experience that would enable them to take over from the current treasurer, who is due to retire next year.
The last lot of new trustees were recruited in late 2016.
They included Katie Leppard MRICS, who set up her own company in 2009 after many years at partnership level.
She said: "I have known about LionHeart as a charity for RICS members and their families ever since I became chartered, but admittedly at a very basic level before I became a trustee.
"Probably the biggest surprise has been the extent of the services on offer from the brilliant LionHeart team, who really are there to support us all.
"I was looking for another volunteering position having just stepped down from being chairman of a tennis club. I thought it would be great to put something back into the profession, and have found it extremely rewarding and interesting to date.
"It certainly comes with responsibilities and you need the time to fully prepare for board meetings and any sub committees, but being involved with the future direction, strategy and performance of a great charity is an honour.
"For those considering applying , I would say just do it: you have nothing to lose and everything to gain and you will get to know an incredible team."
Another of the newest trustees, Peter McCrea, added:"
Like many surveyors, I always knew LionHeart was 'there', but had relatively little understanding of the broad range of services beyond the traditional financial assistance. In the last 12 months, it has been encouraging to see quite how popular these other services are.
"LionHeart plays a key role in mental health awareness in the property world. In a relatively prosperous profession, it is easy to brush over or forget that pressures on surveyors are different, but equally real.
"Giving something back is perhaps an over-hackneyed phrase, but I'm sure all of the Trustees share my goal to return something to a profession which has given me so much over the last thirty years.
"I'd urge any surveyors thinking of joining the Board to get in touch. You will find the role of Trustee interesting, challenging, sometimes poignant, but always rewarding."
Positions as board trustees are unpaid, but all travelling expenses are reimbursed.
Trustees are usually asked to make four board meetings and an 'away day' each year.
More details on the role and application process are available
here