LionHeart's 2019 Impact Report published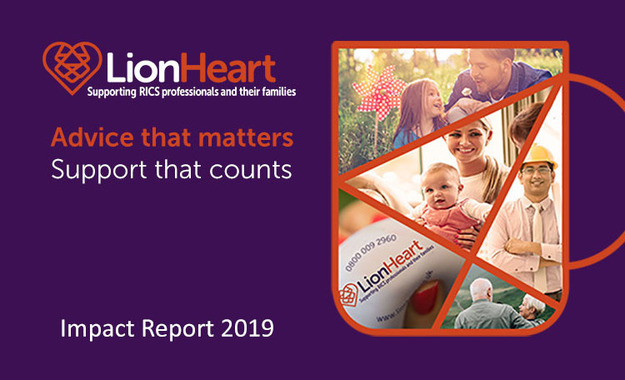 24-09-2019
LionHeart has published its latest annual Impact Report, providing a snapshot of the work we do to support RICS professionals and their family members, and the impact we have on their lives.
In the 2019 Impact Report, chief executive Davina Goodchild outlines how much the charity has grown from when it was set up over 120 years ago, largely as a fund to support the widows and orphans of chartered surveyors. Although providing financial support for people during difficult periods remains an important service, other services such as counselling, health and wellbeing support, legal and employment advice have become an equally important part of what we do.
She said: "Our whole ethos is about being there for RICS professionals when they need it most - whether that's help throughout ill-health, a period of unemployment or following a bereavement - the kind of things that, sadly, can and do happen to any of us.
"We're very proud that the vast majority of people we help tell us afterwards what a positive difference we've made - including in some cases being able to keep a roof over their family's head or get back into work after unemployment.
"One of the most important developments over the last few years is the proactive way we've begun to offer support to people not only during periods of crisis, making us relevant to RICS professionals at any stage in their career. That might include support for APC candidates, our training and development workshops and webinars, coaching support, and right through to retirement planning workshops for those surveyors at the other end of their careers."
Figures highlighted in the report show some of the main reasons for calling LionHeart's helpline:
Unemployment, redundancy and other work-related problems 18%
Ill health or disability 12%
Mental health issues, including stress 14%
Legal issues 14%
Debt or business difficulties 7%
Bereavement 6%
Some 34% of all callers accessed our free, professional counselling service - now one of the most in demand services we offer - while a fifth were referred for free legal advice for help with concerns including employment law and aspects of family law, such as probate queries and family separation.
Just over a quarter (27%) received financial help through a difficult time, such as being unable to work through ill-health or following a family bereavement.
The full report is now available to download here. RICS professionals receiving their subs renewal packs later in the year will also get a copy, at which time they will also have the opportunity to make an annual donation to support LionHeart's work.
Davina added: "We are very grateful to the tens of thousands of RICS professionals who choose to support us as their charity every single year. These donations are crucial to us being able to continue to provide expert, sometimes life-changing, support to people just like you, at times in their lives when they need it most - and to make sure we continue to evolve our services so we can provide the very best support possible."