LionHeart signs up to Time to Change Pledge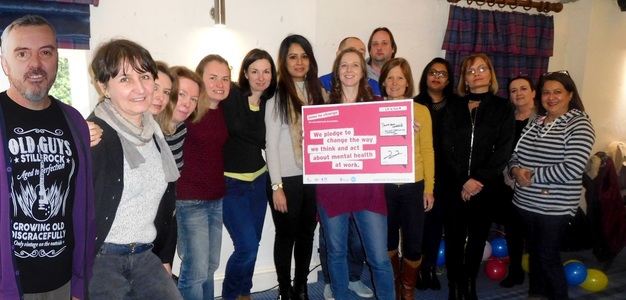 06-04-2017
LionHeart has signed up to the national Time to Change Pledge to demonstrate its commitment to changing people's attitudes towards mental ill health.
Signing the pledge is the first step to encouraging firms within the property industry to follow suit, as part of the John O'Halloran Initiative.
The
John O'Halloran Initiative
aims to promote better mental health in property, and share best practice. It has been inspired by the story of John O'Halloran FRICS who took his own life in 2015 after a battle with depression for many years - something most of his colleagues were unaware of.
Colleagues later decided they wanted to use the tragedy to raise awareness and reduce the stigma attached to mental ill health, hoping that if people felt more able to be open about their problems in the workplace it would make it easier for them to access support.
Time to Change is a national campaign which aims to end mental health discrimination, delivered in partnership by Mind and Rethink Mental Illness, and funded by the Department of Health, Comic Relief and Big Lottery Fund. Workplaces are encouraged to sign the Employer Pledge which aims to ensure workplaces across England open up to mental health problems and encourage staff to talk and to listen.
LionHeart CEO Davina Goodchild said: "I am proud to sign the pledge on behalf of LionHeart for two main reasons; first of all because we have a fantastic team at LionHeart and hope that they all feel happy and safe working with us. One way of making sure this continues is to make it natural and easy for us all to share our mental health and ill health experiences at a level that is comfortable for us.
"It's also important that when people do face challenges there are mechanisms in place to enable us as their employer to support them in the ways that suit them best.
"Secondly we're at the forefront of driving change within the property industry through our John O'Halloran Initiative and one element of that initiative is encouraging firms to sign the pledge and in doing so create a safer and more supportive environment for people with mental ill health or challenges.
"If we're encouraging others to do so then I think it's only right that we do so ourselves and practise what we preach."
An inuaugural John O'Halloran Symposium last year hoped to be a springboard to helping firms in the property industry begin to make those changes.
LionHeart, in partnership with last year's John O'Halloran Committee, is now organising a series of follow-up symposia to take place in May 2017, to further discuss the significance of mental health in the workplace. These events kick off in London during Mental Health Awareness Week, which runs from 8th to 14th May.
The events feature a programme of speakers and will be held as follows:
London - Tuesday 9th May, 9am - 1pm
Manchester - Tuesday 16th May, 9am - 1pm
Bristol - Tuesday 23rd May, 9am - 1pm
Attendance is free and open to those working in the property industry.
Places can be booked here