LionHeart survey will help shape future support services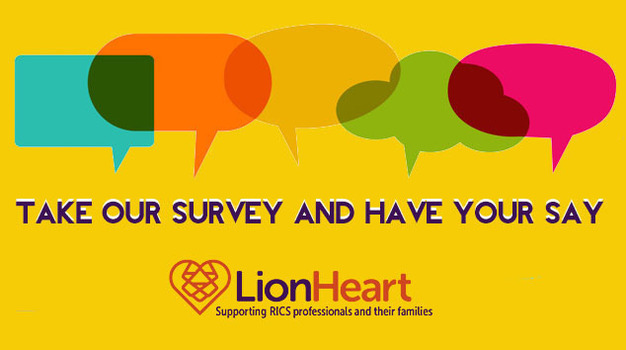 17-04-2018
LionHeart has today launched a major survey of RICS professionals to gather opinions that will help us shape our services over the next couple of years.
A similar survey is carried out every two or three years so that the team at LionHeart can be sure we are meeting the needs of the RICS community, and improve or develop our charitable services as a result.
The last survey was carried out in 2015 and set out to determine what members felt were the key issues that affected them in their day to day lives at home and at work, as well as the type of support they felt LionHeart could best offer.
At that time, some 60% of all respondents told us that they were affected by stress, with a fifth telling us that they felt stressed "most days".
The responses led to LionHeart developing a series of
wellbeing workshops and webinars
, which we now offer alongside our increasingly popular professional counselling service. Over the last 18 months, we have also taken over the running of a major property sector-wide mental health project, the
John O'Halloran Initiative
, which seeks to prevent issues like stress and anxiety from escalating into more serious mental health problems as well as build awareness that these issues can affect anyone.
We've also expanded the type of support we are able to offer those people who have lost their jobs or are struggling to get back into the workplace, after almost three-quarters of previous respondents admitted that job loss or unemployment was something they worried about.
LionHeart CEO Davina Goodchild said: "At LionHeart, we really aim to provide the expert advice and support that really matters when people need it most. Our services have all been built in response to the needs, concerns and interests of RICS professionals, and our regular surveys do provide us with much needed insight into the areas of life that bother them the most.
"The responses from the survey ensure that YOUR charity keeps moving with the times and continues to offer the services and products that genuinely help make a difference to your lives. Your feedback is absolutely crucial to us, and to demonstrate just how much we appreciate it if people take the time to complete the survey we offer a prize draw for one lucky member."
All responses to the survey are completely confidential. Members have until June 15th to fill it in.
Those who complete the survey in full also have chance to enter a prize draw for the chance to win £300 of John Lewis vouchers.
Click
HERE
to fill in the survey.
Thanks in advance for your time!