LionHeart vice chair wins ambassador award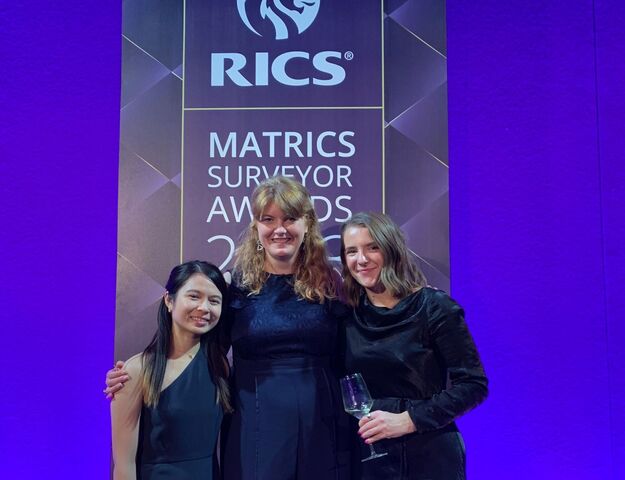 23-10-2023
The vice chair of LionHeart's board has been named the first Ambassador of the Year at the RICS Matrics Surveyor Awards.
Philippa Sampson-Bancroft had been shortlisted in the category alongside 13 other nominees - including LionHeart associate board members So Sum Lee and Grace Conisbee (pictured together above)
The inaugural award was to be for an individual who has "contributed significantly to raising the profile of those early in their surveying career" including embracing the RICS leadership and advocacy agenda, charitable initiatives, and have excelled at raising awareness of the surveying profession.
Judges said: "(Philippa's) support to individuals and the profession is outstanding. The commitment to broadening the profession, highlighting challenges and their openness speaks to so many in the built environment. This individual is a clear leader and role model within the industry, taking deliberate and impactful actions to help shape a more equitable and inclusive profession."
As well as her trustee commitment with LionHeart, Philippa promotes equality and diversity in surveying, delivering 'Let's Talk About Race' training, counsels three APC candidates from diverse backgrounds and is open and visible about mental health and fertility awareness.
Winners of the 10th annual awards - formerly known as Young Surveyor of the Year - were announced in a black tie evening event in London on October 20 with the aim of recognising up and coming surveyors and future leaders of the profession. There were 11 categories in total with Carolyn Brady MRICS named overall Surveyor of the Year.
Speaking after the event, Philippa said: "It was a proper pinch me moment when my name was read out. Huge thanks to LionHeart board chairman Peter McCrea for the nomination, to my fellow nominees and board buddies Grace and So Sum, and to LionHeart for championing us."
See the RICS Matrics Awards Winners brochure in full here.