Mental health and... talking therapies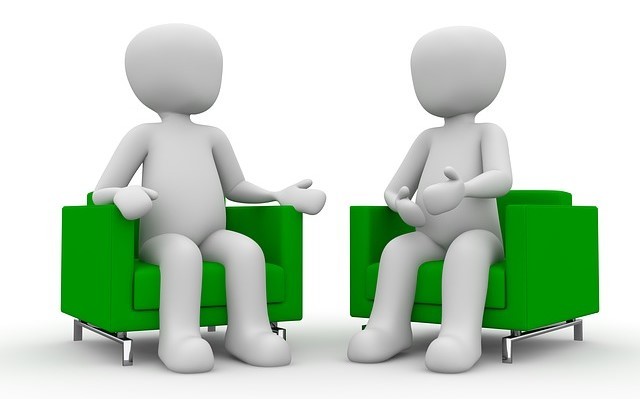 17-06-2019
What is talking therapy and how does it help?
Talking therapy, or counselling, is a way of being able to talk through difficult feelings, emotions or situations in a safe and confidential space, with the support of a highly trained professional.
Chances are, if you've been to see your doctor because your mental health is having a significant and negative impact on the way you're able to live your life, they might have discussed talking therapy, possibly alongside medication.
There are a wide range of theories which fall under the umbrella of talking therapies and these are grouped under three main headings:
Cognitive Behavioural Therapy

Person Centred Therapy

Psychodynamic Therapy
A counsellor may choose to specialise in one particular area of theory, or may train in a way that combines elements of different approaches. This will vary how that particular counsellor both understands and works with any client.
Cognitive Behavioural Therapy focuses on the link between thoughts, behaviour and emotions. Challenging negative thought will lead to change in associated behaviour, which in turn will mean a reduction in negative emotions. CBT has a really strong evidence base for helping with a range of mental health conditions such as depression, anxiety, phobias, Obsessive Compulsive Disorder (OCD), Post Traumatic Stress Disorder (PTSD).
Person Centred Therapy is an approach that is less directive than CBT and focuses on the relationship between counsellor and client and the environment in which therapy is offered.
How do people get counselling?
There are several ways that people can access counselling. It can be accessed privately - use a recognised website such as the BACP and BABCP. Accessing therapy privately can cost anywhere between £40-£100 per session, depending on location, although it should mean fast access to therapy and no limit on sessions.
Your GP may also refer you for counselling, usually for a set number of sessions (usually up to 6) with a local therapist. There is usually a long wait time before the initial assessment which can run into several months.
Your organisation may also offer counselling through an Employee Assistance Programme; again, usually for around 3-6 sessions which may be provided either face to face or online or telephone.
RICS professionals and their partners/ spouses may also access counselling for free through LionHeart. LionHeart counsellors are members or accredited members of BACP British Association for Counselling and Psychotherapy or BABCP British Association for Behavioural & Cognitive Psychotherapies. Typically, we can offer fast access counselling (usually you will speak to a counsellor within a week) and can usually offer 10 sessions with the flexibility to continue if it is felt there is a clinical benefit in doing so.
How does it help?
Sometimes people can be sceptical about whether "talking" can really help them. We asked two of our mental health ambassadors to share what impact talking therapy had on them.
David Sherborn-Hoare

I became aware that no matter how hard I tried I kept taking decisions which were unhelpful to me and to those around me. I was not in control of my emotions. Life controlled me in a very unhelpful way rather than being able to take decisions that were right for me.
I didn't know much about counselling at the time, just that it was there to help those who were struggling with life and needed support.
I would not be able to be where I am today without therapy. The more we are able to understand ourselves at any given moment, why we react as we do, and make sense of what we want in the world in which we find ourselves, then the more we can make of ourselves.
For anyone nervous about counselling, I'd reassure them that they do not have to go or continue to go - but, honestly, it may not be worse than you are feeling about life right now, so there is everything to gain. Never go for counselling because someone else feels you should: always do it for yourself.
Jennifer Hobart

When I approached LionHeart for counselling I wasn't at breaking point, hadn't suffered any major trauma, and I had already been a mental health ambassador for them for over a year. I just knew I didn't feel right, and even though things were going well personally and professionally, I was... lost.
I'd briefly tried CBT through the NHS after my first referral in 2016 so had an idea of what to expect. But at the time I didn't do the work that you need to see the results.
Alongside the LionHeart CBT sessions I have also been going to hypnotherapy. I've seen it as a kind of two-pronged approach: hypnotherapy to try and work out how I got to where I am and CBT to actively manage my anxiety. (Both therapists didn't see any reason I couldn't do them at the same time.)
I am very much a work in progress. I'm learning not to be so hard on myself - I'm often my worst critic. I'm learning to catch myself when I go into negative thought cycles. My anxiety encourages 'mindreading' so for example if someone doesn't text me back I start to think it's because they are mad at me or don't like me, or if someone wants to 'have a word' it must be because I've done something wrong. I have noticed recently that I'm not feeling those pangs of worry as much in those situations.
Asking for help can be hard. I knew all I needed to do was make the call, but I was procrastinating and finding reasons to not to. Because I was effectively functional but a bit broken it meant it didn't feel urgent. One of my friends gave me the simplest advice: pick a day I knew I wouldn't be disturbed and where I felt safe. So, I made that call to LionHeart at home on the bed, surrounded by a sort of pillow fort.
Find out more about LionHeart's counselling here or call us free on 0800 009 2960