Mental health event remembers company MD who took his life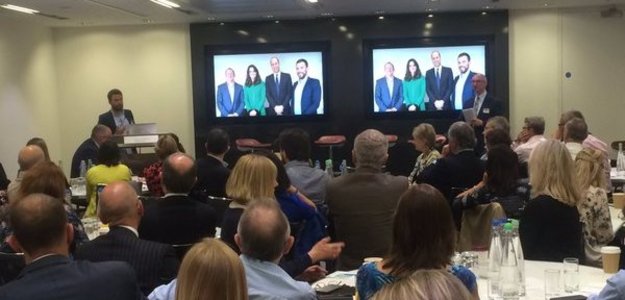 26-05-2016
Property professionals have come together to discuss how to remove the stigma surrounding mental ill health in the industry, and create a culture "where it's ok to ask for help".
The inaugural John O'Halloran Symposium was organised by colleagues and friends of a former company MD who sadly took his own life last year after secretly battling depression.
Backed by LionHeart and hosted by CBRE, the event last week was attended by people from across the sector as well as mental health campaigners and professionals. It's hoped it will act as a springboard for raising awareness and promoting best practice for mental health support throughout the industry.

John O'Halloran FRICS, (pictured left) former MD of BAA Lynton, died in March 2015 at the age of 63. His death came as a great shock to former colleagues, who later decided they'd like to raise awareness of suicide and mental health in his memory.
Opening the event, Gordon Edington - a former colleague of John's and past president of the British Property Federation - said his death had left so many questions: "If I had known more, could I have done something? If the property industry had a more supportive culture, could the outcome have been different?"
John's son Rob told how his father had suffered depression for many years, but kept it hidden from friends and colleagues. After the death of his beloved wife Linda to cancer in 2012, John had also lost his main source of support during depressive episodes. Still, to the outside world, said Rob, John presented a "different face", appearing to be successful, busy and well-connected, when the reality was that he was increasingly struggling to cope.
Nick Martel, an executive director of CBRE and member of its diversity and inclusion board, told delegates they were "committed to breaking down the culture of silence surrounding mental health".
John Binns, from Deloitte, and Jonathan de Lance-Holmes, from Linklaters, bravely shared their own experiences of depression and mental ill-health, and how they'd come back from this to resume successful careers. Both called for a better understanding of mental health issues within the workplace so that people did not feel that opening up about their health meant the end of their careers.
John said: "This association with mental health and weakness needs to be challenged."
Jonathan added: "You can get better; you can achieve; you can perform as well as anyone else."
LionHeart CEO Davina Goodchild outlined some of the help available to RICS members through the benevolent fund, including counselling.
Emma Mamo, from mental health charity Mind, told the conference that 1 in 6 workers are dealing with anxiety, depression or stress, with mental health problems estimated to cost the UK economy £70-£100 billion per year. Yet 8 in 10 employers have no mental health policy in place, and 95% of employees forced to call in sick through stress gave another reason for their absence to their boss.
Martin Coyd, regional head of environment, health and safety at Lendlease, outlined his company's commitment to employees' mental wellbeing, including mental health 'first aid' courses.
Delegates also heard from mental health campaigner Jonny Benjamin, who launched a social media campaign which went viral, to track down the man who talked him out of taking his own life in 2008. The story was later told in C4's award-winning documentary The Stranger on the Bridge.
Visit the John O'Halloran Symposium website to find out more.