"Never under-estimate the power of talking"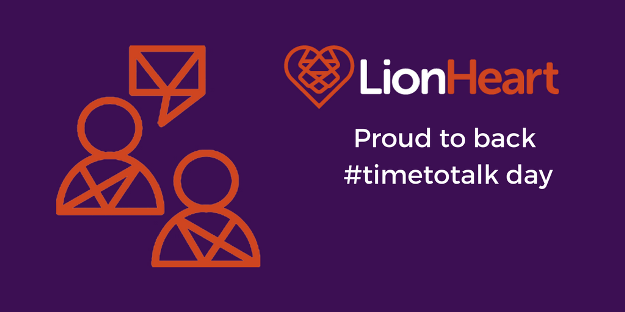 02-02-2017
It's Time to Talk Day - a day to remember that conversations about mental health can change lives.

The organisers of Time to Talk Day say that at the moment, too many people with mental health problems are made to feel isolated, ashamed and worthless by other people's reactions. This is a stigma that we can all help to eradicate just by talking to each other, breaking down the prejudice, ignorance and fear of mental health issues.
One mental health sufferer told Time to Talk: "Stigma makes me afraid of telling my work colleagues … telling certain friends as I am uncertain of their reaction."
Talking about mental health doesn't need to be difficult. It can be as simple as making time to have a cup of tea or go for a walk, and listening to someone talk about how they feel.
At LionHeart, we believe that nobody should face a problem alone, which is why we're backing #TimetoTalk, and why we think our counselling and support services are so important.
We offer support to all past and present RICS professionals and their families. Our BACP registered counsellors tailor support to each individual's needs. In our experience, and according to the excellent feedback we receive from those that use our services, talking through a problem has enormous value.
LionHeart counsellor Berni Antoniou said: "People should never under-estimate the power of talking."
One recipient of our counselling service said: "I think it sometimes takes other people to recognise exactly what you are facing to work out what help you might need. I was very grateful to LionHeart for their help."
As well as the support and counselling services, LionHeart also runs a number of workshops designed to help people cope with the stresses associated with the industry.
Workshops include Mental Health Awareness, Managing Mental Health at Work, Boosting Your Resilience and Supercharge Your Wellbeing. These are all free workshops aimed at helping to improve your general wellbeing and helping people to lead happier, healthier lives.