New appointments to LionHeart board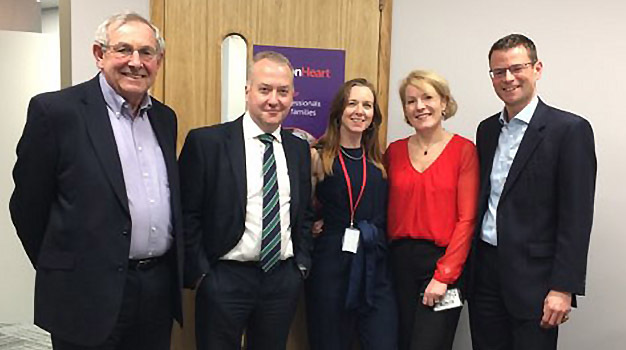 01-03-2019
LionHeart has welcomed three new trustees to its board.
The three new appointments were made official at the most recent meeting of the board of trustees, bringing a wealth of new experience to the team.
They include Kate Taylor FRICS, Philip Nell MRICS, and chartered accountant James Williamson FCA, currently the only member of the board who is not from a surveying background.
CEO Davina Goodchild (pictured above with board chair Peter McCrea) said: "We're delighted to welcome these new members to the board at what is a very exciting time for LionHeart, as we embark on the start of a new five-year strategy that aims to increase our impact and reach more than ever before.
"Our trustees play a vital role in ensuring good governance and shaping our future plans, but I know they would also say they get a lot out of it too. We look forward to working with Kate, Philip and James."
Who are the new trustees?
Kate Taylor FRICS

Kate is an experienced RICS APC Assessor, APC auditor, RICS UK APC Appeal Panel and chair, who brings her experience in supporting APC candidates and graduate surveyors to the board. She has previously delivered wellbeing workshops for LionHeart and has a passion for professional development.
She says: "As a LionHeart trustee I hope to support even more surveyors in a leadership role. I very much want to be part of the team since I admire the organisation and its work so much."
James Williamson FCA

Chartered accountant James spent much of his career working for an American multinational in financial and general management roles at European Director level and, before retirement, worked as a non-executive Finance Director for several small business across a broad range of industry sectors. He has considerable experience of being a charity trustee as a board member of two large housing association groups and chair of the Shropshire Hills AONB.
He says: "For most of my career I gave nothing back to society and now in retirement get a huge amount of satisfaction helping those in less fortunate positions than myself."
Philip Nell MRICS

Philip Nell is Head of UK Real Return Assets at LaSalle Investment Management with overall responsibility for ensuring effective investment of approximately £2.5 billion of funds. His 25 year-plus experience has included director positions at Hermes Investment Management and Aviva Investors and he is currently a member of the MSCI UK Client Group, the RICS Commercial Property Forum and chairs the Investment Property Forum.
He says: "I look forward to using my experience to support my involvement with LionHeart's investment committee, as well as contribute to the lives of those in the surveying profession, and their loved ones."
Welcoming the new trustees, board chairman Peter McCrea FRICS said he was delighted with the new appointments. He added: "All three new board members bring key skills that will add to the existing expertise on the board and strengthen the team as a whole."
Find out more: