New RICS president pledges support for LionHeart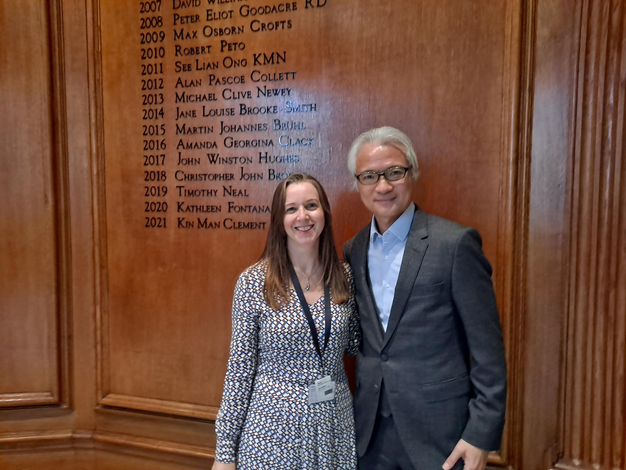 10-11-2021
The new president of the RICS, Clement Lau, has met with LionHeart chief executive Davina Goodchild to re-affirm his support for the charity throughout his presidential term.
Clement will also act as patron of LionHeart throughout his term as RICS president in 2021-22.
Although established and operating as an independent charity, LionHeart works closely with the RICS to provide support for any past or present member who finds themselves in need of help.
Clement has also pledged to use his year in office to help raise awareness of LionHeart and its services on a global scale. In 2021-22, RICS has a global Presidential Team based across three continents, who will look to promote LionHeart's work internationally so more members can access support, including financial grants, legal advice and career support, and emotional support including free professional counselling and coaching.
Clement said: "Like RICS, LionHeart is a truly global organisation and recognises that challenges can affect anyone, anywhere in the world - but I know that many of our members are still unaware that LionHeart exists for everyone, whatever stage they are at in their career and wherever they are based.
"Last year, just 8% of LionHeart's support and a quarter of their grants went to members outside the UK. Over the next year, I will work with Davina and the wider LionHeart team to raise awareness of its important work and the services available to members around the world."
LionHeart CEO Davina Goodchild added: "Clement has been a long-term supporter of LionHeart and its charitable work to support RICS professionals. We are absolutely thrilled that he will be our patron during his presidential term and look forward to working together to support the RICS community, wherever they are in the world.
"We hope with Clement's help to raise awareness, especially outside of the UK, of LionHeart and our many services that support the personal wellbeing, careers and home lives of RICS professionals. LionHeart is an independent charity, originally founded by chartered surveyors to support chartered surveyors - but a strong relationship with the RICS is crucial to us and we are delighted to work closely for the mutual benefit of its members and their families."