New trustees appointed to LionHeart board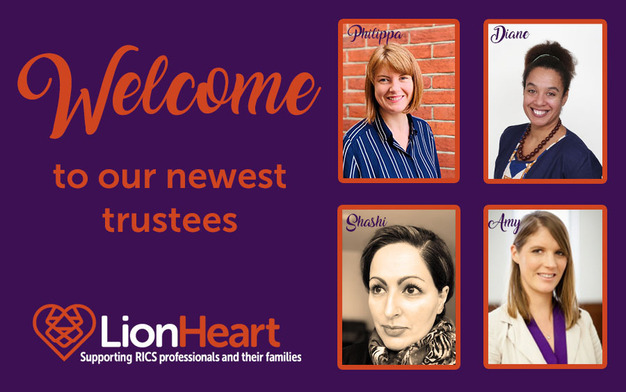 01-06-2020
LionHeart has welcomed four new trustees to its board - an all-female cohort for the first time ever.
The four new trustees were officially accepted at the latest board meeting in May, which had to be held online due to the coronavirus lockdown.
Their appointment followed a hugely successful recruitment drive, which generated the largest ever number of applications from prospective trustees, and an online interview process with LionHeart CEO Davina Goodchild and existing trustees.
The four new trustees include Amy Leader FRICS, Philippa Sampson-Bancroft MRICS, Dr Diane Dumashie FRICS and chartered accountant and tax adviser Shashi Sharma, who becomes only the second LionHeart trustee from a non-surveying background.
CEO Davina Goodchild said: "I'm really excited to be welcoming four fabulous women to complement and complete our already brilliant board of trustees. Working with the board is a very important part of my job and I enjoy the strategic oversight, challenge and support they provide. Board meetings have never been boring and they're just going to get more and more interesting.
"We were absolutely delighted with the response we had when we began recruiting for new trustees to join us back in January, and that people want to come and be part of the LionHeart story. We are exceptionally proud of what we've achieved over the last few years in particular and have worked hard to expand our services to be as relevant as possible to as many RICS professionals as possible, no matter what stage of their career and life they are at.
"During these very challenging times, LionHeart is needed more than ever to support many professionals who may have real concern for what the immediate future holds for them and their families. Strengthening our board will only help as we continue to adapt to the constantly changing environment in order to be as responsive as possible."
Chair of the LionHeart board, Peter McCrea FRICS, said: "We were delighted with the response to our recruitment campaign. That they were appointed from an extremely strong field is testament to the quality of our four new colleagues. They each bring different skills and experience, which will complement those of the existing board. We very much look forward to working with them."
Spotlight on the new trustees:
Amy Leader FRICS MAPM
Amy began her career as a Building Surveyor, progressing on to Project and Programme Management, and is currently Partnership Director for NPS London. Amy has been actively involved in the RICS since joining her local RICS Matrics group as a student; since then she has sat on several boards including the Transitional Governing Council.
She is currently an RICS East of England Judge and an Assessor. Amy is passionate about the concept of 'paying it forward' and says: "I am delighted to be appointed as a LionHeart trustee so that I can help support fellow RICS professionals and their families."
Philippa Sampson-Bancroft MRICS
Philippa has worked in housing and regeneration throughout her public sector career, qualifying as a Planning and Development surveyor in 2016. She currently works at the Greater London Authority as Senior Manager for the Public Land team supporting public landowners release land for housing and has a wide range of development experience.
Philippa became particularly aware of LionHeart's work when she was preparing for her own APC. She says: "As a trustee, I now hope to support LionHeart's work both in helping as many people as possible through challenging times but also in building resilience in professionals to help prevent crisis."
Dr Diane A Dumashie FRICS, CEDR
Diane currently serves as Vice President of the International Federation of Surveyors (FIG) and has previously been on RICS Governing Council after many years serving on RICS regional, faculty and local boards and international expert group panels.
Starting her career in the retail and hospitality sector, Diane later joined the development consultancy division at Grimly JR Eve before founding her own independent practice supporting public sector client organisations in property development and regeneration. With a Doctorate in land policy planning and business strategy in coastal areas, she now works across the UK, Africa and the Caribbean, helping public sector and multilateral agencies to benefit local communities through economic development & improving livelihoods.
She says: "The work LionHeart does is truly inspiring: the charity is an unsung hero of our profession. I look forward to contributing."
Shashi Sharma FCA CTA
Shashi is a Chartered Tax Adviser and Chartered Accountant, beginning her career at PricewaterhouseCoopers. She has significant experience across all taxes and commercial expertise gained working in-house in large multinational groups for over 15 years. Most recently she held a vice-president position for West Europe with beverage giant Molson Coors before setting up as an independent consultant earlier in 2020.
Shashi has always sought to balance her corporate work with voluntary work, most recently at Aquarius, a substance misuse and gambling support services charity. She is also a mentor on the One Million Mentor programme.
Having been supported herself in the past by her own profession's charity, CABA, she says: "There are many similarities between the professions, including a reluctance to ask for help and/or accept it, whether it's work or personal problems. I've been there and was fortunate to have CABA to help: I want every RICS member to know that they have LionHeart to support them throughout their professional and personal life."
See the rest of the LionHeart board

here