Top tips this No Smoking Day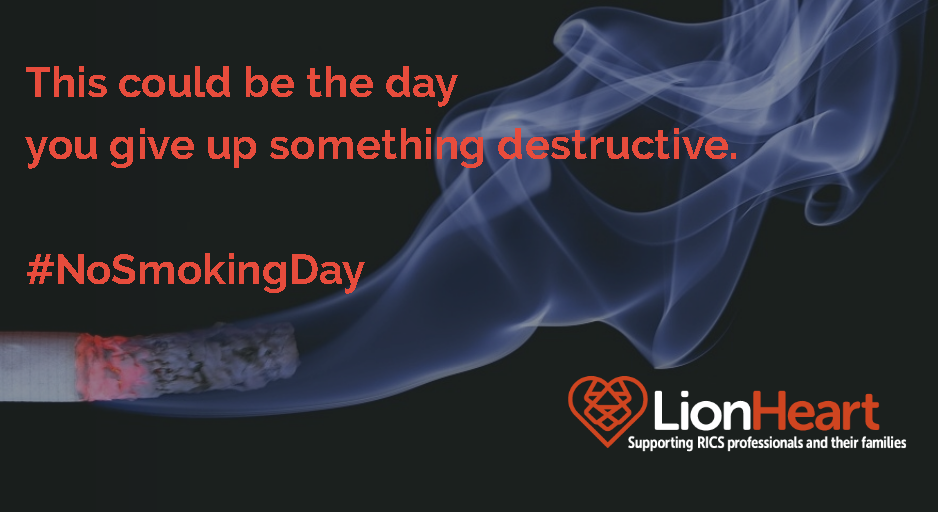 08-03-2017
Smokers are being urged to take a step towards quitting for good on No Smoking Day, on Wednesday 8 March. The awareness day is organised by the British Heart Foundation (BHF) and aims to inform the public about the dangers of smoking and to support those who wish to quit.
Stopping smoking increases your chances of living a longer and healthier life. You'll feel the benefits from the day you quit. Not only will you start to save money, you'll experience a reduced risk of heart disease and a whole range of cancers.
The BHF says your life expectancy will be greater, and you'll notice an improvement in the symptoms of smoking related diseases such as Chronic Obstructive Pulmonary Disease (COPD).
Stopping smoking can help you live life to the full. You'll feel fitter and more able to take part in physical activity - which in turn can benefit your mental health and wellbeing.
The LionHeart counsellors, who sometimes work with people who want to make changes to their behaviour, have put together a list of their top tips to help people who are trying to give up:
Be aware of certain situations you find yourself in that trigger stress or anxiety, making you more likely to reach for a cigarette. A diary may help you to understand your triggers
Trying mindfulness breathing techniques could help alleviate stress when it arises so you don't automatically reach for that cigarette
Doing something different at that moment may take your mind off that need for a cigarette: make a cup of tea, go for a walk...
Plan a reward for cutting down or quitting, as a result of saving money otherwise spent on cigarettes, to help motivate you. This could be as simple as a little shopping trip or even a holiday or weekend away
Look at the triggers which make you want to smoke and then try to substitute the cigarette with a practical exercise such as going out for a walk, mindful breathing or setting a goal per day to complete!
And - just in case you need another reason - smoking is expensive and prices will continue to rise. If you're smoking 20 cigarettes a day, you're likely to be spending about £3,500 a year, based on the average cost of £9.60 for a pack of 20 cigarettes. Think what you can do with that cash!
The NHS has a handy calculator to help you work out how much you could save by giving up smoking.
For more information about No Smoking Day visit the BHF website.